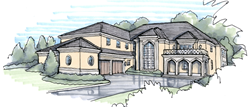 "Be one of the first to select your home site by becoming a Parkdale VIP and receive up-to-date-community information," said Jeri Gaita, Sales Associate for Byron-Hill Homebuilders™. "Sign up at ParkdaleSouthBrunswick.com."
South Brunswick, NJ (PRWEB) April 16, 2015
Parkdale at South Brunswick, a luxury estate community by developer Byron-Hill Homebuilders™, is coming to Ridge Road in South Brunswick, NJ. "Parkdale is now accepting pre-construction contracts and will break ground this summer with occupancy to begin in 2016 – just in time for the school year," said Jeri Gaita, Sales Associate for Byron-Hill Homebuilders™. "Be one of the first to select your home site by becoming a Parkdale VIP and receive up-to-date-community information. Sign up at ParkdaleSouthBrunswick.com."
An enclave of 16 luxury estate properties on Ridge Road in South Brunswick, NJ, Parkdale at South Brunswick offers spacious, elegant homes with up to 6,800 sq. ft. of living space, six bedrooms and four to five baths. "Expansive foyers, two-, three- and four-car garage options and a set-up for an optional elevator add convenience and style to your home," said Gaita. "Personalized options are also available including a basement that can be designed to provide a gym/dance floor, media room, office, home theater and wet bar."
Situated in South Brunswick, Parkdale is just steps away from South Brunswick's nationally acclaimed high school, which is a recipient of the Blue Ribbon Award and was named "Star School" from the United States Department of Education with rankings in the State's public school system. The community is also just six miles from Princeton University.
Parkdale at South Brunswick is easily accessible from Route 1, Route 522, the New Jersey Turnpike and Route 130. The community is approximately eight minutes from Princeton, nearby major shopping centers, and prestigious medical facilities like Robert Wood Johnson Medical Center. Train service is also available to New York and Philadelphia from nearby Princeton or Monmouth Junction.
About Byron-Hill Homebuilders™
For more than 20 years, Byron-Hill Homebuilders™ has been one of the most respected builders of luxury estate homes in the New York and New Jersey metropolitan area. The Marlboro, NJ-based company has developed a series of distinguished suburban communities throughout South Brunswick, Marlboro, Holmdel and Colts Neck in New Jersey, as well as Rockland County, New York. Guided by two partners, Greg Sarkissian and Luther Gueyikian, Byron-Hill Homebuilders™ has formed an enviable niche in the marketplace by utilizing creative design, state-of-the-art construction techniques and a tireless commitment to customer service to produce exquisite neighborhoods with exceptional value for homebuyers.
To learn more about Parkdale at South Brunswick, please call 732.329.4200 or visit ParkdaleSouthBrunswick.com.