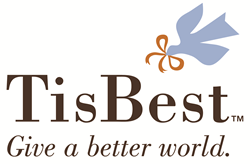 I couldn't be happier to come back to the TisBest fold.
Seattle, Wash. (PRWEB) April 16, 2015
TisBest Philanthropy, a nonprofit organization dedicated to creating a better world through gifts of charity, is thrilled to announce Simeon Cathey, Co-Founder and CEO of Content Panda as its newest board member.
Simeon has a long history with TisBest as one of the original developers of the TisBest Philanthropy charity gift card platform and will join the board of directors effective immediately.
"After I left the SharePoint team to start a private cloud business, I had an idea around connecting people and businesses to an easier online experience for both personal and corporate giving. This was during the dawn of the gift card before the term Corporate Social Responsibility existed. It was fun to bring the infrastructure of this idea to life," said Simeon Cathey, Co-Founder & CEO of Content Panda.
"To then step back and watch over the years how TisBest founder Erik Marks and the team have expanded our original idea has been amazing. I couldn't be happier to come back to the TisBest fold to support its quest to inspire and create a better world through gifts of charity."
TisBest Philanthropy created charity gift cards in 2007 and since then has raised millions of dollars for charities through these unique gifts. The organization focuses on educating individuals and businesses about the many benefits of giving. Programs such as DiscoverGiving and the Better World Radio podcast help expand the organization's reach and spread the message that anyone, no matter their age or economic status, can become a philanthropist.
"I am thrilled to have Simeon back as part of the TisBest team. With his long-time Microsoft history and as CEO of three successful startup technology companies, I watched his success, leadership and entrepreneurial enthusiasm grow and expand over the years. Simeon's incredible skills in design, web and e-commerce are going to be a great asset to our board discussions. On a personal note, Simeon and I are enjoying reconnecting about our shared history and common goals regarding making the world a better place," said Erik Marks, founder of TisBest Philanthropy.
About Pandaworks Inc/Content Panda
Pandaworks Inc. is a technology startup specializing in creating software that enhances and disrupts existing ways of thinking. Its first product, Content Panda for Office 365 and SharePoint revolutionizes the delivery of help content inside this extremely popular Microsoft software. Content Panda focuses on making IT Administrators' support lists smaller and CIOs smile. This is done by empowering end users inside their daily digital workspace by surfacing the best curated help content through one click of a very cute panda face. http://www.contentpanda.com #getpanda https://twitter.com/ContentPanda
About TisBest Philanthropy
TisBest Philanthropy is a 501(c)(3) nonprofit organization dedicated to creating a better world through gifts of charity. TisBest created charity gift cards in 2007. Charity gift cards work like conventional gift cards, but with one important exception: the recipient of a charity gift card "spends" it by choosing a charity to receive the funds. With a TisBest Charity Gift Card, you make the donation and your recipient decides how to spend the donation, choosing from TisBest's 350+ charity partners. Learn more at http://www.tisbest.org.