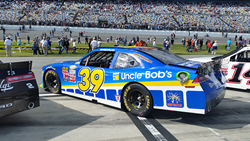 Birmingham, AL (PRWEB) April 15, 2015
Uncle Bob's Self Storage will host a Talladega Kickoff Event on Tuesday, April 28th in preparation for the Winn Dixie 300 at Talladega Speedway on Saturday, May 2nd. The gathering will offer racing fans a chance to win tickets to the race at Talladega! Fans can also meet Xfinity driver Ryan Sieg and get his autograph. Additionally, Sieg's No. 39 car and hauler will be on site for photo opportunities.
The Talladega Kickoff event will take place Tuesday, April 28th at 6604 Walt Drive Birmingham, AL 35242 from 5:30pm-7:30pm.
Uncle Bob's recently announced their primary sponsorship with Ryan Sieg for 16 races in the NASCAR Xfinity series.
"Talladega is the place everyone wants to race, and to say I'm enthusiastic to come back in the Uncle Bob's car would be an understatement," Sieg said. "I also can't wait to meet fans at Uncle Bob's in Birmingham."
Talladega Kickoff: Ticket Giveaway and Event Details
Fans will have the chance to win Talladega tickets throughout the day, courtesy of Uncle Bob's Self Storage and WZZK 104.7, who will be broadcasting live from the event. Popular morning radio personality Greg Burgess from The Rick & Bubba show will be on hand to host the event.
"Talladega is a special time around here, and the enthusiasm can be felt all over the community," said William Tierney, area manager for Uncle Bob's Alabama facilities. "With Ryan involved this year, it's doubly exciting for us as a company. We're thrilled to be a part of the experience on this level."
For more information visit Uncle Bob's online at: UncleBobs.com/Talladega.
About RSS Racing:
RSS Racing currently fields Chevrolet Camaro's in the NASCAR XFINITY Series for driver Ryan Sieg. RSS Racing has competed in NASCAR events since 2009 from its headquarters in Tucker, GA. For more information on RSS Racing and Ryan Sieg, please visit ryansiegracing.com.
About Uncle Bob's Self Storage:
Uncle Bob's Self Storage® is owned by Sovran Self Storage, Inc., (NYSE:SSS) a real estate investment trust (REIT) that acquires and manages self storage facilities. Uncle Bob's is one of the largest self storage companies in the United States with more than 500 storage locations in 25 states. Uncle Bob's currently has five self storage facilities in the Birmingham, AL area.