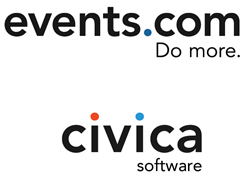 "Civica is a natural addition to the Events.com family," said Gregg Parise, CEO of Events.com.
San Diego, California (PRWEB) April 15, 2015
Events.com announced it has agreed to acquire eGov innovator Civica Software. Founded by a team of web technologists and a city council member from Southern California, Civica delivers award-winning sites and solutions for the civic space.
Civica has launched over 300 government projects across 125 agencies and has established itself as the premier eGov provider for local governments, special districts, and non-profit groups. The key to its award-winning websites and mobile applications is a unique, citizen-focused approach backed by a comprehensive content management system (CMS). This approach has bettered the lives of hundreds of thousands of citizens nationwide, pushing Civica to the forefront of the industry.
"Civica is a natural addition to the Events.com family," said Gregg Parise, CEO of Events.com. "Our Events.com platform is built to provide the best registration experience possible for event participants and organizers, and we always put the user first. Civica likewise focuses on what matters most: the communities they serve."
"We are thrilled to join the Events.com family and confident that our teams' synergies will bring exponential growth," said Stuart Gregg, General Manager for Civica. "For nearly twenty years, we have been constantly improving the Civica platform to better the communities we serve. The acquisition allows us even greater leaps in innovation, as well as the ability to better serve both existing and prospective agencies."
Events.com is a mobile-first, socially focused suite of cloud-based applications that provides an ideal solution for event organizers and event goers alike. The company takes a new and personalized approach to event technology, with a mission to connect people with the experiences they love, one event at a time.
For more information, visit http://www.civicasoft.com.
Press contact: Jake Brenner - jbrenner@civicasoft.com