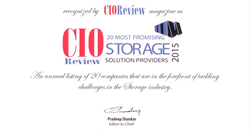 "storageFOUNDRY has been on our radar for some time now for stirring a revolution in the Storage landscape for their work in Open Platfrom and Open Source Technologies, and we are happy to showcase them this year"- Harvi Sachar, Founder CIO Review
San Mateo, CA (PRWEB) April 15, 2015
CIO Review has chosen storageFOUNDRY for its 20 Most Promising Storage Solution Providers 2015. The positioning is based on evaluation of storageFOUNDRY'S achievements as part of the massive Storage landscape.
The annual list of companies is selected by a panel of experts and members of CIO Review's editorial board to recognize and promote technology entrepreneurship. "storageFOUNDRY has been on our radar for some time now for stirring a revolution in the Storage landscape for their work in Open Platfrom and Open Source Technologies, and we are happy to showcase them this year due to their continuing excellence in delivering top-notch technology-driven solutions," said Harvi Sachar, Publisher and Founder, CIO Review. "storageFOUNDRY's solutions continued to break new ground within the past year benefiting their customers around the globe, and we're excited to have them featured on our top companies list."
"storageFOUNDRY is honored to be recognized by CIO Review's panel of experts and thought leaders," said Craig Forbes, Solution Consultant at storageFOUNDRY.
About storageFOUNDRY
StorageFOUNDRY is a leading provider of storage solutions which delivers outstanding storage performance, efficiency, besides exceptional flexibility. The industry experts at storageFOUNDRY stand out from the contemporary storage solution providers with their ability to integrate scale-out components into a reliable, high performance solution.
About CIO Review
CIO Review constantly endeavors to identify "The Best" in a variety of areas important to tech business. Through nominations and consultations with industry leaders, our editors choose the best in different domains.