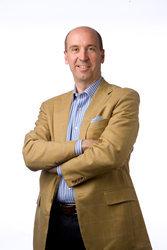 There are a number of ways to help organizations future-proof themselves but the best and most powerful method is to simply be on the alert for signals from the future that are visible today.
Raleigh, NC (PRWEB) April 15, 2015
As a professional futurist and business forecaster one Jack Uldrich feels one of his main responsibilities is to prepare people and organizations for the future.
To do this, he strives to heighten their awareness.
Uldrich says, "There are a number of ways to accomplish this goal but the best and most powerful method is to simply be on the alert for signals from the future that are visible today."
Today, Uldrich will deliver his keynote, "The Big AHA: How to Future-Proof Yourself Against Tomorrow's Trends, Today" to North Carolina's Electric Cooperatives. North Carolina's electric cooperatives "provide reliable, safe and affordable energy and related services to more than 950,000 households and businesses in 93 of North Carolina's 100 counties."
Uldrich will discuss with the cooperative's leaders a variety of technological advancements that will impact the energy industry. Those advances include wearable technology that will to control and automate smart homes to optimize energy efficiency, 3-D Manufacturing, Mobile computing--which will reduce the need for physical stores, reducing real estate and energy costs, as well as Nanotechnology, Robotics, Sensors, and Supercomputers.
A highly acclaimed futurist and public speaker whose aim is to help his clients thrive in increasingly competitive energy markets Uldrich has worked with a number of companies and dozens of trade associations in the utility industry. Some of his recent keynotes have been delivered at National Fluid Power Association's Annual Conference, ABB's recent product launch tour on sensors, the CleaResults Energy Summit, Western Energy Institute, Southern Company, SDG&E, SMUD, Eaton, BP, the National Rural Electric Cooperative Association, Missouri River Energy, Northwest Energy, Idaho Power and the Northeast and Northwest Public Power Associations.
In his blog post, See the Future in the Present Uldrich provides a seemingly ironic example of change which is that the National Coal Museum installed solar panels. "The move," Uldrich says, "will save the museum $650,000 and it is a sign that solar power is becoming more affordable and practical." Future-proofing is all about blending the practical with the exponential leap. Forward thinking organizations that embrace change are far more likely to survive than organizations that say, 'we have already tried that, or we won't try that because we have always done things a certain way."
All the great philosophers espouse that fluidity of thought and calculated risks are cornerstones for success. And the bottom line is, as a futurist, Uldrich wants to see the NCEC, and all of his clients succeed.
Parties interested in learning more about him, his books, his daily blog or his speaking availability are encouraged to visit his website. Media wishing to know more about either the event or interviewing Jack as a futurist or trend expert can contact Amy Tomczyk at (651) 343.0660.