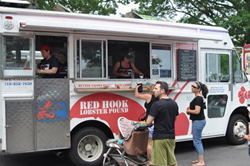 Allenhurst, New Jersey (PRWEB) April 14, 2015
Over three dozen of the area's best food trucks will be in attendance at the annual Jersey Shore Food Truck Festival at Monmouth Park Racetrack taking place May 23rd to May 25th from 11:30 am to 5:00 pm. The three day event includes delicious food and world-class horse racing to kick-off the summer season.
The festival is sponsored by The Star-Ledger and sponsored in part by a grant from the New Jersey Department of State, and the Division of Travel & Tourism. Tickets are $3 to enter.
For a complete list of participating food trucks, visit the Facebook event page, https://www.facebook.com/events/774498312632361/ or Monmouth Park Racetrack's website http://www.monmouthpark.com/event_detail.aspx?id=9128.
About Bielat Santore & Company
Bielat Santore & Company is an established commercial real estate firm. The company's expertise lies chiefly within the restaurant and hospitality industry, specializing in the sale of restaurants and other food and beverage real estate businesses. Since 1978, the principals of Bielat Santore & Company, Barry Bielat and Richard Santore, have sold more restaurants and similar type properties in New Jersey than any other real estate company. Furthermore, the firm has secured in excess of $500,000,000 in financing to facilitate these transactions. Visit the company's website, http://www.123bsc.com for the latest in new listings, property searches, available land, market data, financing trends, RSS feeds, press releases and more.