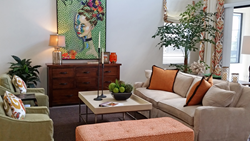 The Vacation home market is hot in this area and we are proud to design for Lennar to make things even hotter!
Orlando, FL (PRWEB) April 16, 2015
Award-winning interior design firm Beasley & Henley Interior Design completed two model homes for Lennar Homes in Solterra Resort, a new vacation-home community in Davenport, Florida near Orlando. The homes, priced in the mid $300,000's were installed on March 30.
Beasley & Henley catered the interior designs to a young, family-oriented vacation buyer, with interiors that reflect a broad cultural appeal. The firm's designs played up the features of the homes and showcased comfortable, family-friendly design styles.
The interior design and furnishings of The Majesty Palm, a 6 bedroom-5 bath home, entices buyers with its vibrant selections. Features such as transitional furniture, oversized artwork, chrome fittings, and energetic pops of colors on a mainly neutral backdrop, show-off the spacious floor plan and the carefree, vacation lifestyle.
The Alexander Palm, a 5 bedroom-5 bath home, is also a lively residence. Areas such as the kids' spaces are vibrant and fun, while more soothing backgrounds tones are shown in the main bedrooms. The living room and dining area a blend of tones, with mainly neutral backgrounds and pleasing touches of sunny colors mixed in.
To see photos of Beasley & Henley's work, log onto http://www.BeasleyandHenley.com/LookBook/Models
___________________________________________________________________________
Beasley & Henley Interior Design is a boutique interior design firm with a passion for creating model homes and public spaces across the US. Their services include interior detailing, specifications, drawings, interior design and furnishings. For more information on Beasley & Henley Interior Design or any of their award winning interiors, please call 407-629-7756 or visit http://www.BeasleyandHenley.com.