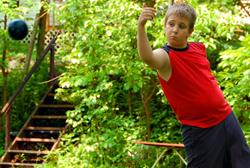 Toms River, New Jersey (PRWEB) April 15, 2015
The countdown to the official start of the 2015 season is underway. Surf & Stream Campground released an updated calendar of events over the weekend, adding new activities to the schedule. The fresh lineup is meant to provide guests with entertainment as well as drive traffic to the campground.
New activities include: New Jersey Explorer Series, Scavenger Hunt, Capture the Flag, Bocce Ball and Kickball Tournaments, Karaoke Night, Hawaiian Weekend, Wet n' Wild Weekend, and a magical Magic Show weekend.
Visit Surf & Stream Campground's website for a full description of each event http://surfnstream.com/.
About Surf and Stream Campground
Surf & Stream Campground is a family-friendly RV park located near all of the most popular beaches at the Jersey Shore. The campground includes a full-size swimming pool, picnic area, activities for all ages, weekend events and more. For more information about Surf & Stream Campground, visit their website at http://www.surfnstream.com or call 732.349.8919.