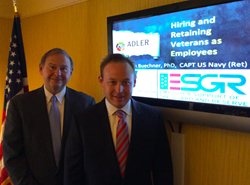 We are very proud to be regarded as a model employer by the ESGR. As an American employer we have taken a stand to support our veterans. Nathan Conway, CEO of Fortis Energy Services
Bloomfield Hills, MI (PRWEB) April 16, 2015
On Thursday April 9th Barton Buechner, Vice Chair of ESGR was the guest speaker at the Pontiac Rotary Club. Buechner was joined by the CEO of Fortis Energy Services, Nathan Conway, to discuss the importance of employing members of our reserve forces and the National Guard.
The Employer Support for Reserve and Guard (ESGR) is an office within the Department of Defense. The ESGR was established in 1972 to promote cooperation and understanding between Reserve Component Service members and their civilian employers.
"We are very proud to be regarded as a model employer by the ESGR", stated CEO Nathan Conway. "As an American employer we have taken a stand to support our veterans. It is our duty to have supportive employment practices in place for the men and women who have served our Country. Our company receives the benefit of highly trained individuals with can-do attitudes and tremendous work ethics. Together we all serve."
"These citizen warriors could not defend and protect us at home and abroad without the continued promise of meaningful civilian employment for themselves and their families", states Buechner. "We want to acknowledge employers such as Fortis Energy Services. They have been exemplary in demonstrating corporate engagement by developing their Fortis4Vets hiring initiative. We hope that more Michigan based companies will follow their lead."
About ESGR
Employer Support of the Guard and Reserve (ESGR) is a Department of Defense (DoD) office that develops and promotes supportive work environments for service members in the Reserve Components through outreach, recognition, and educational opportunities that increase awareness of applicable laws and resolves employer conflicts between the service members and their employers.
ESGR has served our country for more than 40 years, fostering a culture in which all employers support and value the employment and military service of members of the National Guard and Reserve in the United States. ESGR is supported by a network of more than 4,700 volunteers in 54 committees located across all 50 states.
About Fortis
Fortis Energy Services, Inc. is a leading oil and gas well service company in the USA, providing oil and gas well services throughout the production life cycle. Fortis' safety culture sets them apart as a leader in the industry. Quality people and quality work contribute to Fortis' exceptional growth rate. A well-maintained fleet combined with highly experienced professionals has enabled Fortis to establish strong customer relationships and an excellent safety record.
For Info contact: Nancy Thompson uptownpro(at)hotmail.com