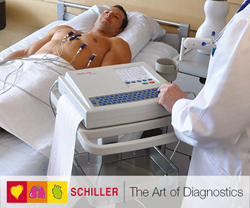 The Schiller brand compliments and adds a more robust dimension to QuickMedical's existing cardiopulmonary diagnostic offerings...
Issaquah, WA (PRWEB) April 21, 2015
QuickMedical, a veteran-owned leader in the distribution of medical equipment and supplies, now represents Schiller America's line of Ambulatory and Automatic Blood Pressure Monitors, ECGs, Stress Tests, and Vital Signs Monitors, among many other items.
Schiller, based in Switzerland, is a global leader in the development and production of cardio-pulmonary diagnostic equipment. Schiller's products are developed in close cooperation with the world's leading physicians and specialists to ensure excellent value and unmatched versatility.
QuickMedical is committed to carrying a wide selection of medical equipment and supplies to meet the diverse needs of its customers. The Schiller product line expands QuickMedical's extensive catalog of diagnostic equipment, which includes everything from wall-mounted diagnostic stations to Urine Analyzers and Stethoscopes.
"The Schiller brand compliments and adds a more robust dimension to QuickMedical's existing cardiopulmonary diagnostic offerings, giving customers a wider selection of ECGs, stress testing equipment, and vital signs monitors," said Nita Morris, QuickMedical's Product Manager.
Currently available at commercial pricing, QuickMedical's Government Sales Team is working with government acquisition officials to add Schiller products to its existing FSS Contracts and to GSA Advantage so Government customers can take advantage of this new line of high-quality diagnostic equipment.
ECG Monitors by Schiller
Schiller's line of ECG Monitors is among the most extensive available with options ranging from tablet-sized ECGs with built-in printers for simple tasks, to full-sized ECG carts for complex analysis. Schiller ECG Monitors include advanced features such as full-color displays (available on select models), WiFi connectivity, EMR integration, and a wide range of algorithms for interpretation and analysis.
Stress Tests by Schiller
Schiller Stress Testing Systems are complete yet customizable, making them ideal for a wide range of cardiopulmonary diagnostic needs. Features like maintenance free motors, touchscreen displays (available on select models), and integrated storage carts let Schiller Stress Tests integrate seamlessly with any clinical workflow. For advanced analysis, Schiller offers software options for pacemaker analysis, arrhythmia detection, vector analysis, and other cutting-edge algorithms.
About QuickMedical:
QuickMedical is a veteran-owned small business serving the federal government with three FSS contracts. Federal government customers can order any of over 10,000 items on our FSS/GSA contracts directly from QuickMedical Government Sales at 1-888-345-4858. QuickMedical also provides medical equipment and medical supplies commercially to hospitals, labs, industry, universities, and home consumers.