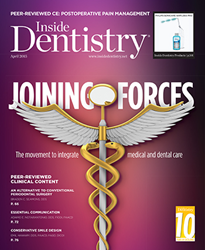 " The reason why health care is complicated and expensive and not accessible is because the pricing of individual services does not work," according to economist Clayton Christensen "You have to put the pricing inside the system."
Newtown, PA (PRWEB) April 16, 2015
A growing body of research suggests an association between oral and systemic health, particularly in terms of the impact of periodontal disease on chronic illnesses, including diabetes and cardiovascular disease, and pregnancy outcomes. Numerous studies have already demonstrated that receiving concurrent care for both oral and medical disease enhances the effectiveness of both; further, some show reduced costs mainly due to lower hospital-related expenses.
In the April issue of Inside Dentistry, the cover story "Joining Forces" focuses on the potential integration of oral and primary health care and what affect this could have on the dental community.
The concept of greater integration of dental and medical education and practice is not new; in fact, the 2001 Surgeon General's Report on Oral Health recommended this approach. Yet barriers are preventing this from occurring. R. Bruce Donoff, DMD, MD, is among those seeking to overcome such barriers. Donoff, who is dean of the Harvard School of Dental Medicine (HSDM), hosted a forum on this issue at the school last fall. The forum also featured thought leaders outside the dental community, including insurers, business leaders, economists, and public health experts, to explore the costly impact of poor oral health care on overall health, especially chronic disease. Donoff believes that the integration of medical care and dental care within a single system is good for the patient and would improve overall health in this country. "Because dentistry stayed out of Medicare, we have a situation where there's an increasing population of elderly patients who cannot receive the oral care they need," observes Donoff.
Economist Clayton Christensen regards integration of oral and overall health care as a problem whose solution may lie in application of the "disruptive innovation" economy theory for which he is known worldwide. "The reason why health care is complicated and expensive and not accessible is because the pricing of individual services does not work," according to Christensen "You have to put the pricing inside the system."
Donoff adds that while medicine was forced to adapt to new realities involved in serving patients covered by Medicare and Medicaid as well as employer-provided health insurance, dentists remained largely in their fee-for-service "bubble," in which oral health care was either covered inadequately or not at all by health benefits.
"Burgeoning data from a whole host of insurance companies that insure both medically and dentally now indicate that there are economic as well as health benefits to be gained from including oral health care coverage in their plans," says Donoff. This offers a compelling cost-saving case for integration during a time of skyrocketing health care costs.
To read the full report, go to http://www.insidedentistry.net.
Media contact:
Mark Macaulay
Director of Corporate Communications
AEGIS Communications
215-504-1275 Ext. 232
mmacaulay(at)aegiscomm(dot)com
About AEGIS Communications:
Founded in 2005 with the launch of its flagship publication, Inside Dentistry, AEGIS Communications is the culmination of more than 100 combined years of professional experience and insight into healthcare publishing, education, and multimedia communications. Our extensive oral healthcare platform includes The Compendium of Continuing Education in Dentistry, Inside Dental Technology, DentalAegis and CDEWorld. AEGIS provides the entire team—clinicians, technicians, hygienists, assistants, and students—with a comprehensive collection of accessible, high–quality, purposeful content designed to enhance their practice and patient care.