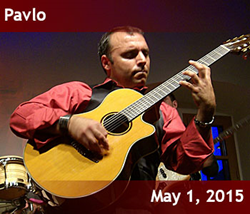 Pavlo's father always told him, "Have the courage to do what you love, and the drive to do it well."
Duncan, OK (PRWEB) April 28, 2015
The Chisholm Trail Arts Council, through the generous support of First Bank & Trust Co., is pleased to present Pavlo as the last concert for their 2014-2015 CTAC Live Concert Series on May 1, 2015.
After years of guitar lessons, from classical to flamenco, Pavlo spent his early years playing in rock groups, and wedding bands, but finally discovered his own distinct sound that he termed, "Mediterranean". It was the first time he felt as though his guitar was speaking from his soul.
Pavlo has released seven albums over the last ten years, having sold over half a million records. He has toured around the world every year consistently, playing over one hundred and fifty concerts per year.
His awards and honors include: Best Instrumental Album of the Year– Juno Nomination – Canada's Equivalent to the Grammy's, Billboard Top 10, Two Gold Albums, Touring Artist of the Year and World Artist of the Year. Pavlo has also performed for His Royal Highness Prince Charles.
For presale tickets, please contact 580-252-4160 for more information. Event doors open at 6:30pm with the performance beginning at 7:30 pm at the Simmons Center, 800 Chisholm Trail Parkway in Duncan, OK. Individual Show Tickets can be purchased prior to the show date of May 1 through CTAC's website at http://www.chisholmtrailarts.com or by calling CTAC's office at 580-252-4160. Tickets will be sold at the door the night of the show.
Make plans for Friday, May 1st for a wonderful evening of beautiful music from Pavlo. An autographed guitar will be given away to a lucky winner at the evening show.
For further information please contact Darcy Reeves, Chisholm Trail Arts Council at 580-252-4160 or email director(at)chisholmtrailarts(dot)com.