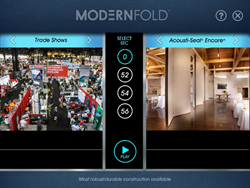 With STC Sound Experience, users select an environment and hear STC differences within it.
Greenfield, Ind. (PRWEB) April 27, 2015
STC Sound Experience, a free mobile app, enables users to hear the actual sound control characteristics of room partitions on Apple and Android devices. This first-of-its-kind app was developed by Modernfold, leader in the design and manufacture of movable partitions, to demonstrate the capabilities of its products to RSMs, architects, designers and end users.
STC (sound transmission class) is a technical measure of the effectiveness of any partition in limiting the passage of audible vibration. Modernfold space division products achieve STC ratings as high as 56, dramatically limiting the noise that can penetrate from the far side of a partition.
With STC Sound Experience, users select an environment and hear STC differences within it, or compare a range of STC levels in varied environments. Sound Experience also accesses the Modernfold Design Planner and the company's product brochures.
The app, a useful tool for interior designers, demonstrates at a touch how an operable partition can shield a space from noisy nearby conditions. Users can select an acceptable sound level and learn what Sound Transmission Class rating will appropriately limit environmental noise and distraction. By understanding STC, designers can make the best choice when selecting and specifying partitions.
Modernfold operable partitions combine effective space division with exceptional control of sound from many sources. Access to Design Planner tools and brochures with STC Sound Experience adds another helpful dimension of design capability.
Click here to download this app, visit or contact the company at info(at)modernfold(dot)com or 800-869-9685.
About Modernfold
2015 marks Modernfold's 90th anniversary as the premier provider of products that enable optimal space utilization. Whether the primary requirement is acoustical control, versatile space management, energy savings, or daylighting, Modernfold's innovative product solutions assist and facilitate building management. Beginning in 1925, the company helped invent the moveable wall industry. Its current product line continues that leadership. In a wide range of installations, outstanding, highly flexible results are provided by Modernfold Operable Partitions, Moveable Glass Walls, acoustically rated MOVEO® Glass Wall systems (combining transparency with exceptional acoustic performance), Accordion Doors and more. Modernfold is a DORMA Group Company.