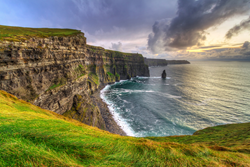 GULFPORT, Fla. (PRWEB) April 14, 2015
Stetson University College of Law is partnering with the Law Society of Ireland to offer a continuing legal education program (CLE) for U.S. lawyers and legal practitioners July 13-15 in Ireland.
The two-and-a-half-day, 14-credit CLE, "Technology in Litigation in the Silicon Valley of Europe," is being offered in the destination city of Dublin, Ireland, an international hub for business, law and technology.
Topics cover the benefits and impacts of technology on litigation and evolving developments in technology and the law including:

Possible use of video surveillance, police cameras and cellphone video as evidence
Internet searches and privacy issues
Social media's impact on impartial jurors and the discovery phase
Technology in the courtroom
For more information, call Stetson's Office of Professional Education at 727-562-7940 or email ope(at)law.stetson(dot)edu.
To learn more and to register for "Technology in Litigation in the Silicon Valley of Europe," please visit http://www.stetson.edu/law/conferences/homepages/destination-cle-ireland.php.
###
About Stetson University College of Law
Stetson University College of Law, Florida's first law school, has prepared lawyers and leaders since 1900. Today, Stetson leads the nation in blending legal doctrine with practical training, evidenced by its top-ranked programs in advocacy and legal writing. Through our academically rigorous curriculum and commitment to social responsibility, Stetson lawyers are ethical advocates ready to succeed in the legal profession.