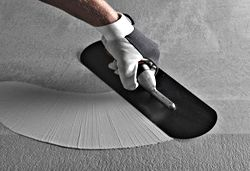 (PRWEB) April 15, 2015
Walttools is announcing the availability of Concrete Rescue, their new high performance, user friendly, microtopping mix for use on both interior and exterior surfaces. Concrete Rescue is designed to be the most versatile microtopping mix on the market. It is the first self-level microtopping mix that behaves like a trowel grade once it has been placed. This allows an installer more finish options than with a traditional self-level topping mix. By removing the "stickiness" that comes with other mixes, installers can trowel and retrowel this surface with minimal fuss. In fact, Concrete Rescue can be applied reliably in thicknesses ranging from under 1/16 of an inch upwards of 3/4 of an inch allowing it to be used as a true overlayment, providing a much wider usage range than standard microtops.
Concrete Rescue is used to create a durable surface that can be troweled, brushed or lightly textured and colored with a variety of options. Concrete Rescue can be used to restore or repair nearly any concrete surface. Typical uses may be restoring a fresh surface to badly worn existing concrete floors, use as a self-level underlayment, or resurfacing outdoor concrete. This mix contains a proprietary polymer eliminating the need for liquid polymer addition. This proprietary blend has a quick turnaround time—you're ready to stain and seal just 24 hours. Available in both white and gray.
Concrete Rescue will be available thru select decorative concrete supply distributors.
About Walttools.
Walttools is a premier manufacturer of Decorative Concrete Supplies and a leader in the Decorative vertical concrete arena. Their products have been used in over 30 countries. The product lines include Tru Impressions stamps and texture tools, the Tru Tex vertical concrete line, Tru Tint stains, and the ultra-versatile Tru Pac line of specialty ad pacs.