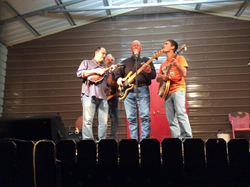 Duncan, OK (PRWEB) April 21, 2015
Duncan's Grove 4th Annual Spring Bluegrass Festival, April 23rd- 25th, will be a week of fun for the entire family with activities aplenty plus great music.
Activities for the week line up with Tuesday starting at 2pm with a Ladder Golf Tournament, 5pm Pot Luck, 6pm Pie Contest and 6:30pm Pie & Ice Cream. Wednesday will begin at 2pm with a Wahoo Tournament and a 6:30pm Group Gospel Singing. Thursday will have 6:45pm Gospel Music. Friday kicks off with a 8am-10am Pancake Breakfast followed by 12pm Noon Music. There will be a 10:30am Guest Band to start off Saturday followed by 12pm Music.
There will be workshops on Monday, Tuesday and Wednesday as well as a Quilting Tent- new this year! Concession will be available. Bring lawn chairs.
Tickets are Thursday- Free All Gospel, Friday Pass $20, Saturday Pass $20 and a Weekend Pass $35. For more information or to reserve camping contact Lisa Hagen at 580-736-1363 or the Duncan Convention and Visitors Bureau at 1-800-782-7167.