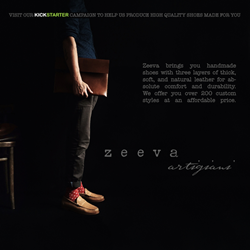 (PRWEB) April 16, 2015
Houston based brand Zeeva shoes is bringing choice and tradition back to men's shoes. Instead of cookie cutter designs at marked-up prices, Zeeva shoes offer custom men's shoes using traditional hand sewing methods and amazing leathers at an affordable price.
The company successfully launched a Kickstarter campaign on April 9th, raising more than $15,000 in the first 48 hrs, passing 50% of their goal and becoming Kickstarter Staff Pick.
The customers are able to chose from 3 different styles, a combination of 9 leather colors and 3 different outsoles. "Zeeva's shoes are not only special because of the many combinations the customer have, but also because they are hand made with three layers of quality leather under your feet" said zeeva founder Pablo Uriegas. "I'm passionate about quality leather and the traditional techniques used to make great shoes."
Uriegas has more than 15 years of experience producing premium leather for companies such as Cole Haan, Sebago, and G.H. Bass. He was inspired to launch his own brand after he noticed that most men's shoes are either priced at 3 to 4 times the cost, and a lot are cheaply mass-produced. Zeeva's philosophy is that choice and personal style are important in men's fashion, so each shoe is completely customizable.
Uriegas hand-selects the leathers for Zeeva Shoes and trains his artisans to sew them using traditional techniques. By selling directly to customers online, Zeeva will be able to offer hand-sewn designs at a lower price than most brick-and-mortar stores.
"I'm very pleased that Zeeva is making shoes the way they used to be made," said Owen Baxter, a former VP of Sebago with more than 40 years of industry experience. "The fact that Zeeva is working with a small manufacturing facility and very experienced hand-sewers gives them the opportunity to offer custom colors and styles. Most manufacturers can't do this because they don't have the systems in place."
The Zeeva Artigiani Kickstarter will run until May 9th. Funds from the Kickstarter will help launch the company's e-commerce store, zeevashoes.com. Fashionable men in the Houston area and beyond can visit https://www.kickstarter.com/projects/853981204/create-your-own-custom-zeeva-shoes.
Journalists interested in learning more about Zeeva's collections, the hand sewing process, and its inspiration can contact founder Pablo Uriegas at 832-922-8040 for more information.