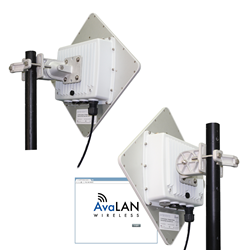 There aren't many options to get this kind of speed and flexibility in a point-to-point wireless bridge and no better value in a cost/performance ratio
Madison, AL and Las Vegas, NV (PRWEB) April 15, 2015
AvaLAN Wireless, leaders in secure, fail-proof wireless connectivity, will be at ISC West (booth #32063) in Las Vegas, NV on April 15-18 to unveil its new 1.3 GB point-to-point high speed wireless bridge. The carrier-class wireless networking bridge provides more than 1 GB of data transmission. The system operates in the 5 GHz band and is effective for up to 10 miles line-of-site distance. The new product will provide a valuable alternative for backhaul or connecting buildings at unprecedented speeds.
The FCC recently approved the use of high power transmitters at 5.15 – 5.25GHz in addition to 5.725-5.850GHz. The AvaLAN 5Ghz product family now has twice as many channels resulting in twice the amount of data capacity. This is important when scaling larger deployments and allows smaller sites to minimize interference with more channels to select between.
"There aren't many options to get this kind of speed and flexibility in a point-to-point wireless bridge and no better value in a cost/performance ratio," said Matt Nelson, CEO of AvaLAN Wireless. "We wanted to provide a cost effective solution that can be trusted to run the most critical infrastructure. AvaLAN is widely known for its fail proof solutions and we continue to innovate and add to our growing product line so our OEMs and critical infrastructure customers can stay on top of their game."
AvaLAN Wireless will also showcase their new 4.9 Ghz product line. These solutions provide a clear frequency for public safety applications. The 4.9GHz band is coveted for its low background noise and the FCC licenses this spectrum to municipalities for public safety applications. The AvaLAN 4.9GHz Ethernet radio is fully optimized for video surveillance applications to ensure peak performance. The AW49200 can also be configured for operation in the unlicensed 5GHz bands as needed.
AvaLAN Wireless is continuously asked about connecting other devices, such as Ethernet I/O, IP-Camera or other Ethernet devices and is now providing their own line of industrial POE Ethernet switches. Two different power inputs at the terminal block avoid interruption caused by power down. When the primary DC power input fails, the backup power input will take over immediately to guarantee non-stop operation.
To learn more about these products or how to increase wireless range and redundancy, visit booth # 32063 at ISC West in Las Vegas, or contact us at http://www.avalanwireless.com.
About AvaLAN Wireless
AvaLAN Wireless provides high reliability wireless connectivity solutions. AvaLAN's products solve difficult wireless challenges for installations that require extreme range, superior reliability with uncompromising data security. AvaLAN is a trusted industrial supplier of robust and reliable solutions for the video surveillance, smart-grid, digital signage, access control and industrial automation markets. Specializing in the unlicensed 900 MHz, 2.4 GHz and 5.8 GHz radio bands, AvaLAN offers a family of wireless products with the ideal combination of range, security and reliability. AvaLAN Wireless is quality certified [ISO 9001] and has been in business for over ten years. http://www.avalanwireless.com.