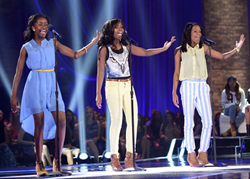 Atlanta, GA (PRWEB) April 15, 2015
April 25, 2015 will mark AMTC's first-ever A.M.P. It Up! concert. Being held from 6:00 - 8:00 p.m. at Destiny Metropolitan Worship Church of Atlanta, Actors, Models and Talent for Christ invites everyone in Atlanta and neighboring communities who wants to help make a positive impact on the entertainment industry. Admission into the concert is a monetary donation of any amount, and can be given at the door.
Rising talent and two nationally-known headliners will perform at the Atlanta event: Julian Silva, who played Gavroche in the national tour of Les Miserables, and X Factor group 'Glamour.' A meet-and-greet autograph session will follow the concert.
Julian Silva won Overall Child Singer at AMTC's SHINE Winter 2013 Conference, and was immediately cast in the US National tour of Les Miserables. The show traveled through the U.S. and Canada. Recently, Julian was cast as Jonah Davis in feature film "Gracia," produced by the "God's Not Dead" team.
Many X Factor fans remember the memorable trio, 'Glamour,' that stole the hearts of Season 3 viewers. After their a cappella performance of "The Star Spangled Banner," Judge Kelly Rowland jumped to her feet and exclaimed, "I am so excited! I feel like I am looking at a baby Destiny's Child right now!" The metro-Atlanta girls, Alexis, Kaylan and Moriah (featured on Fox 5 Atlanta), are excited to headline the first A.M.P. It Up! event.
VIP Choreographer Brandin Jay will be directing the Atlanta A.M.P It Up! concert. Brandin has produced many national shows and web series. He is himself a recognized performer, featured on the Disney Movie 'Let It Shine' and The X Factor.
AMTC is planning A.M.P. It Up! shows all over the nation, but Atlanta is the first! Their purpose is three-fold: 1) to launch positive role models in the entertainment industry, 2) to raise funds for AMTC's revolutionary program, Pay What You Pray, and 3) to showcase AMTC performers to VIPs and guests.
AMTC is a three-generation family business started in 1982 by industry icon Millie Lewis and her daughter Carey Lewis. Actors, Models & Talent for Christ is now a 501(c)(3) non-profit with the purpose of "Making Good Bolder" in film, fashion, music and theater.
For more information, please visit paywhatyoupray.org. All news organizations are welcome to receive a press pass with exclusive VIP entrance and interviews, and can contact pr@amtcworld.com.