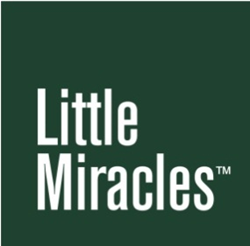 London, England (PRWEB) April 15, 2015
Little Miracles are revolutionizing on-the-go beverages. The delicious fusions of superfruit juices, like acai berry and pomegranate, are powered by Panax ginseng for "uplifting" refreshment guaranteed to change how people hydrate. Hugely popular across the pond, Little Miracles are finally here and taking the U.S. by storm.
"Today's consumers multitask, even when it comes to hydration. They want beverages with benefits," said Bob Groux, U.S. CEO of Little Miracles. "Our organic fusions are developed with consumer health and well-being in mind, but we know how important flavor is, too. If beverages don't taste great, it's a challenge to get the hydration we all need for optimal health. We offer both."
In addition to the healthy functioning of cells, tissue and organs, maintaining body temperature and removing waste from the body, hydration is essential to the daily energy consumers crave. According to stayhealthy.com, "Lack of being sufficiently hydrated is the number one trigger of daytime fatigue, and a mere two percent drop in body water can trigger short-term memory problems and difficulty focusing on reading a computer screen or printed page."(1)
The rejuvenating boost Little Miracles offer comes from pure, natural Panax ginseng, believed to step up the immune system and combat fatigue, as well as to improve alertness, memory and concentration, without the jitters or crash associated with typical "energy drinks." Customers like the healthful properties of ginseng that set the company's drinks apart.
Little Miracles' delicious fusions include Lemongrass Tea and Ginseng, Black Tea and Peach, Green Tea and Pomegranate, White Tea and Cherry and new Rooibos Tea and Elderflower/Berry. All Little Miracles drinks are organic, non-GMO and free from the artificial colors, flavors and sweeteners that can interfere with the taste of natural ingredients, in addition to being a health concern. All blends are sweetened with organic agave and are 90 calories or less per serving. The beverages come in 11 oz. re-sealable bottles.
In 2013, Little Miracles was awarded the Quality Food Award, Best Cold Beverage category, based on taste, quality, price, design and packaging. The awards are the most prestigious for food and drink products on sale in U.K. grocery outlets.
Little Miracles drinks have it all when it comes to great taste and revitalizing nutritional values. Now consumers in the U.S. have ready access to a naturally uplifting bottled beverage.
Customers on the West Coast and East Coast can find Little Miracles at the following locations:
West Coast
Sprouts
Fresh & Easy
Andronico's
Draeger's Supermarket
Oliver's Market
Whole Foods – Pacific Northwest
Mother's
Lassens
East Coast
Shaw's
Stop & Shop
Giant stores
Kings
For more information about Little Miracles, visit DrinkLittleMiracles.com. For interviews or product samples, please contact the names listed at the bottom of the release.
(1) http://www.stayhealthy.com/en_us/main/hydration_information
About Little Miracles
Little Miracles, headquartered in London, is a global organic beverage brand with distribution in 25 European countries and in the U.S. Its full line of organic superfruit juice blends were developed with consumer health and well-being in mind. Made with carefully selected Panax ginseng in its purest form and sweetened with organic agave, all Little Miracles beverages are 90 calories or less per serving and free from artificial colors, flavors and sweeteners.
Media Contacts:
Alexandra Salazar
McFadden/Gavender
O: (520) 882-6262
M: (603) 801-9398
Alexandra(at)mcfaddengavender(dot)com
Christina Thompson
McFadden/Gavender
O: (520) 882-6262
M: (623) 229-2597
christina(at)mcfaddengavender(dot)com
Website:
DrinkLittleMiracles.com
###