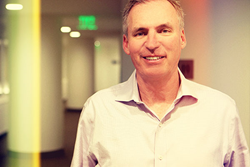 Bob is an accomplished executive with the expertise to lead our teams.
San Francisco, CA (PRWEB) April 15, 2015
Geary LSF, the digital agency that creates custom omni-channel marketing strategies for its clients, has announced today the key hire of Bob Yakominich as Executive Vice President, Sales & Marketing.
Bob Yakominich was welcomed to the agency team in April. In his new role, Yakominich will oversee the Geary LSF sales and marketing departments, taking charge of strategy, processes, and business development, while simultaneously building upon the agency's mission to responsibly innovate and take action on behalf of their clients and peers in order to solve the business challenges of the digital space.
"Bob is an accomplished executive with the expertise to lead our teams and drive our business development strategy," said Karen Kovaleski, Geary LSF CEO. "He will play a key role in shaping the direction of the agency as we continue to evolve with our industry and our clients. We couldn't be happier to welcome him on board."
Prior to joining Geary LSF, Yakominich held various sales leadership roles at companies like American Express, CitySearch/Ticketmaster, and most recently, ZipRealty and Waypoint Homes. Throughout his thirty-year career, he has built and managed national sales & marketing teams while achieving revenue goals through the identification and addition of new sales channels and opportunities. Bob Yakominich is a proven senior-level executive with strong leadership experience in Internet marketing solutions, account management and revenue growth. His extensive knowledge of direct sales, online advertising and inbound marketing, as well as his reputation as a 'lead by action' manager, are welcomed additions to the Geary LSF team.
For more information about Geary LSF, please visit GearyLSF.com or contact a representative of the agency at marketing(at)gearylsf(dot)com.
About Geary LSF
Geary LSF is a full service digital marketing agency headquartered in San Francisco, with additional offices in San Diego, Chicago, Boston, Philadelphia and St. Louis. Specializing in an omni-channel marketing approach, the team turns digital ambitions into business results for more than 450 brands worldwide including: Bumble Bee Foods, Target, Megapath, Aramark and several others. For more information, please visit http://www.gearylsf.com.