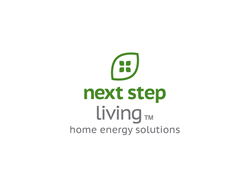 Boston, MA (PRWEB) April 15, 2015
As Earth Day approaches, Next Step Living, the Northeast's leading provider of home energy solutions, is marking milestones in its environmental and economic impact. The level of carbon emission reduction it has achieved is the equivalent of taking more than 20,000 cars off the road, and the company has served more than 100,000 homeowners, helping to achieve $26 million in energy cost reductions.
"We're continuing our founding mission to significantly lower the carbon footprint in our region, and we're encouraged by the response from homeowners to our energy-saving recommendations and services," says Next Step Living founder and CEO Geoff Chapin, "but much more still needs to be done to preserve our planet and create a sustainable climate. Reaching the 100,000th customer milestone is proof that taking action to make your home more affordable, comfortable or sustainable is becoming top of mind for homeowners everywhere."
Next Step Living is furthering its commitment to sustainability by signing the Ceres Climate Declarations, a call to action by businesses based, in part, on the principle that positive climate change is not only vital to our future but also represents positive economic opportunity. Supporters include Apple, PepsiCo, General Mills, Sprint and IKEA.
"One of the hallmarks of the philosophy of Next Step Living is that you can be a sustainable business, taking an activist approach to climate change, and at the same time, contribute positively to the economy and green job creation," says Chapin. Since its founding in 2008, Next Step Living has taken its "practivist" commitment to the next step, steadily adding jobs to currently employ more than 800 people in the New England and New York metro markets.
The company practices sustainability in its own carbon footprint, taking a number of actions to reduce energy use. These include:

A commitment to green power. Next Step Living's Boston headquarters is 100% powered by wind energy through 2015. Going forward, the company has procured a contract with the alternative electricity supplier Constellation New Energy Inc., which will provide the power for the office. By making a new commitment to wind power, the office plans to save upwards of $15,000 on utility bills for 2015.
Encouraging alternative transportation for employees. Next Step Living provided an opportunity for employees to sign up for the Boston 2014 Walk/Ride Corporate Challenge. Its involvement with the Green Streets Initiative, which encouraged employees to walk or bike to work rather than drive, led to a win for the Large Company Division. The company has joined the friendly competition again for 2015.
Next Step Living Expands its Impact, Taking Earth Day to the Neighborhoods with Strong Local Partnerships
To carry the message of sustainability and provide energy-saving solutions throughout New England, Next Step Living partners with more than 400 public and private organizations. During the month of April (including Earth Day on April 22), the company's outreach team of more than 200 people will be a major presence at events celebrating green living. In Massachusetts, these include:
A tabling presence at 25 Aubuchon Hardware stores in in towns including Foxboro, Plymouth and Tewksbury.
Distributing energy-saving information to employees at corporate partners Amgen and Raytheon locations.
Continuing its premier partnership with Staples and Stop & Shop, by staffing Next Step Living information tables at nearly 600 Stop & Shop and Staples stores throughout the state
Spreading energy awareness at local festivals, such as the EcoTarium Earth Day Celebration in Worcester
In Connecticut, Next Step Living is launching an outreach partnership with Big Y World Class Market. Event representatives will be staffing information tables at eight Big Y retail locations and providing energy-saving tips via its partnership with Next Step Living. "We're proud to celebrate Earth Day – and beyond – with Next Step Living to educate homeowners on the benefits of lowering their carbon footprint, both for their bills and for the environment," says Gary Kuchyt, Big Y manager of energy and sustainability. "Building on our partnership is essential to further our mission to conserve energy and become a more sustainable organization, while bringing green living to the general public."
Other Connecticut events include:

A presence at Hamden Earth Day on April 18 in Hamden
Tabling at the Connecticut Audubon Society Earth Fair in GlastonburyApril 25
Representatives at the Wilton Go Green Festival in May
Collaboration with high school students, such as those from North Haven High School, for Earth
Day initiatives tied to the Next Step Living SEED program
Reveling in its first New York Earth Day appearance as a company, Next Step Living will also be present at the New York Presbyterian Hospital System in the Westchester Division in White Plains, New York.
Celebrating Earth Day in the Digital Age: Monthly Quiz Series Highlights Energy Trivia, Sustainable Lifestyle Options
To further extend its sustainable mission, the company launched a new interactive initiative leading up to Earth Day to help homeowners who want to test their sustainable IQ. Next Step Living has created a series of online quizzes on topics including the solar industry and high-efficiency windows. "The quizzes are an innovative way for the public to learn about energy-saving solutions available to them, along with some little-known fun facts about the energy industry," said Next Step Living Vice President of Outreach Gabe Shapiro. To take the quizzes, visit NextStepLiving.com/EarthDay.
Homeowners don't have to wait until Earth Day to lower their carbon footprint. Schedule a home energy assessment to learn about ways to save energy and money, or visit the Next Step Living Bright Ideas Blog for more energy conservation advice and company news.
About Next Step Living
One of the fastest-growing companies in the country, Next Step Living® is the leading provider of whole-home energy solutions in the Northeast. In 2014, Next Step Living continued its triple bottom line focus with an expansion into the commercial sector when it became the exclusive provider of EcoThermal Filter Systems, an innovative energy-saving product for commercial kitchens. Headquartered in Boston's Innovation District, Next Step Living makes it easy and affordable for people to have a low environmental impact, at home and at work. Next Step Living partners with more than 400 municipalities, civic organizations, leading corporations and utility companies to deliver energy-efficient and environmentally friendly solutions for better living. Please visit NextStepLiving.com for more information.