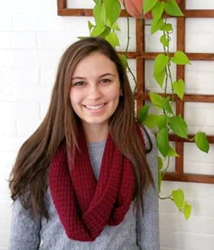 Assistive technology will remain an invaluable tool for me as I further my education, and I hope to continue changing public perceptions about the abilities of students with print disabilities.
WASHINGTON, DC (PRWEB) April 15, 2015
Learning Ally, a national nonprofit serving individuals with visual and learning disabilities, will honor six remarkable students on April 18 at its 55th annual National Achievement Awards celebration in the nation's capital.
Three high achievers are blind or visually impaired, and three have learning disabilities like dyslexia. All are being recognized for scholastic excellence, exemplary leadership and service to others; and all have thrived in education with the help of accessible educational content and assistive technology that Learning Ally provides.
The following six winners will receive cash awards and travel with their families to Washington, DC, where they will spend an afternoon on Capitol Hill and speak out during two days of education and celebration on Friday and Saturday, April 17 - 18.

Matthew Guberman-Pfeffer is attending the University of Connecticut's chemistry graduate program on its most competitive and prestigious scholarship. He also has a visual impairment that makes studying an already difficult subject even more challenging. Rather than be discouraged by his visual impairment, Matthew considers his obstacles a source of motivation. He credits Learning Ally as giving him the opportunity to study chemistry by making highly technical textbooks accessible and easily available in audio format. Matthew hopes to become a chemistry professor after completing his degree.
Brian Meersma is a freshman at Cornell University who has dyslexia. He credits Learning Ally and other assistive technologies for helping him do well in school despite his struggles with reading. After realizing the positive impact that technology had on him, he developed a passion for assistive technology. While he is currently in the School of Industrial and Labor Relations and still exploring possible career paths, Brian hopes that his course work will provide a foundation to pursue a career in the disability field, finance, or human resources.
Valeria Paradiso is pursuing a graduate degree at Hunter College, having already completed a bachelor's degree in psychology and honor's studies. Valeria lost her sight due to retinal blastoma at a young age, and uses Braille as well as human-narrated audiobooks from Learning Ally to access educational material and pleasure reading. After completing a dual program in general and special education, Valeria plans to become a teacher for people who are blind or visually impaired. Most recently she has become a founding mentor in Learning Ally's new College Success for the Blind program.
Mara Schein, a freshman at Cornell University, once considered herself a non-reader because of her dyslexia. Mara is now excelling in her academic pursuits, majoring in Policy Analysis and Management and considering a minor in Human Biology, Health and Society. At Cornell, she is a member of a judicial committee called the Peer Review Board and a writer for the science section of the school's newspaper. She has spent much time mentoring young students in the city of Baltimore, and is considering paths in education policy and the science of learning.
Brian Miller recently completed his doctorate in history at the University of Iowa. Visually impaired since birth, Brian was never deterred from experiencing everything life has to offer and was among the first blind students to be mainstreamed into public schools. Audiobooks from Learning Ally helped Brian compete with his sighted peers and excel in school and he has continued to use them throughout his higher education pursuits. He lives near Washington, D.C. and works for the U.S. Department of Education, Office of Special Education and Rehabilitative Services.
Kelsey Waldron was diagnosed at a young age with dyslexia, a learning difference she shares with her father and brother. Although her family was prepared for the challenges dyslexia can present, Kelsey faced many struggles during her grade school years. With hard work and a strong support network, she was able to build skills to overcome her difficulties with reading. Now a freshman at Carleton College, Kelsey views her dyslexia as a strength that has helped her develop resilience and a strong work ethic. Kelsey is currently studying a variety of subjects with plans to focus on political science and history.
About the National Achievement Awards
Since 1959, Learning Ally has honored exceptional students who are blind or visually impaired through its privately endowed Mary P. Oenslager Scholastic Achievement Awards (SAA) for college seniors and beyond. Hundreds of students apply for these prestigious awards each year and are selected by committees of Learning Ally volunteers, board members, parents, educators, donors and staff. Students are recognized for their academic excellence, leadership, and service to others; each award winner has a long list of honors and accomplishments, and has graduated with a GPA above 3.0, with most near the 4.0 mark; and they have thrived on their education paths thanks in part to their use of accessible educational content and assistive technology provided by Learning Ally. For information about applying for Learning Ally's National Achievement awards, visit http://NAA.LearningAlly.org/apply.
About Learning Ally
Founded in 1948, Learning Ally supports K-12, college and graduate students, veterans and lifelong learners – all of whom read and learn differently due to dyslexia, blindness or visual impairment, and other disabilities. Through its extensive community events and support programs, Learning Ally enables parents, teachers and specialists to help students thrive and succeed. The organization hosts live and virtual events for families and teachers; provides instructive webinars led by experts as well as peer-to-peer sessions led by students; personal consultations for parents; and professional development workshops for educators.
Learning Ally's collection of 80,000 human-narrated audio textbooks and literature titles can be downloaded by students using their smartphones and tablets, and is the largest of its kind in the world. As a 501(c)3 nonprofit, Learning Ally is partially funded by grants from state and local education programs, and the generous contributions of individuals, foundations and corporations. For more information, visit http://LearningAlly.org.