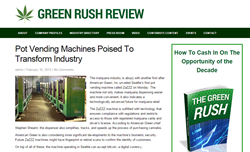 Legal marijuana industries could potentially be one of the big industries for bitcoin, as it allows marijuana growers a means of charging without involving cash
San Francisco, CA (PRWEB) April 15, 2015
GreenRushReview.com, a marijuana industry news website, reports that bitcoin ATMS and vending machines could be the new trend with medical marijuana dispensaries over the next few years. Bitcoin, released in 2009, is a digital currency initially used to make purchases online. Nowadays, however, bitcoins are slowly being accepted as a form of payment in brick and mortar establishments.
According to the Huffington Post, digital currencies could potentially be the solution to huge problems encountered by marijuana businesses that legally operate under state laws. Traditional banks tend to reject cannabis-related businesses since federal law still considers marijuana to be illegal, and these financial institutions fear that they may be punished or fined by law enforcement authorities and federal regulators.
In the process, marijuana businesses are unable to open checking accounts or accept credit cards. They are left without secure options, and are forced into dealing only with large amounts of cash - risking their safety and raising employee payroll and tax issues. Thus, dealing in bitcoins may wind up being the better and more secure alternative.
Bitcoin Foundation Chief Scientist Gaven Andresen believes that legal marijuana industries could potentially be one of the big industries for bitcoin, as it allows marijuana growers a means of charging without involving cash.
Colorado dispensaries, in their first month, made approximately $14 million in sales. In the next fiscal year, Gov. John Hickenlooper expects to make almost $1 billion in combined sales of medical and recreational marijuana. By 2018, a national study projected that legal marijuana industry may be worth $10 billion.
Peter Klamka, bitcoin entrepreneur, believes that there is a general lack of understanding of the benefits that merchants can enjoy from bitcoins, but thinks that his business is a promising one as the medical marijuana industry continues to grow. At present, the entrepreneur estimates that there are roughly 300 bitcoin ATM machines around the globe.
Klamka states that medical marijuana users will be among the earliest bitcoin users. His company, Bitcoin Brands, has placed a bitcoin ATM machine in one medical marijuana dispensary and is placing two more in the Grand Rapids area. The three medical marijuana dispensaries will be using bitcoin payment tablets in order to facilitate transactions using bitcoins.
In Seattle, Washington, the first vending machines to dispense marijuana via bitcoin payments made its debut earlier this year. These machines, more commonly known as ZaZZZ, first came out in Colorado in April of 2014. Manufactured by American Green, these units accept bitcoin by displaying a QR-code on its touchscreen. The company aims to bring the bitcoin-friendly vending machine to other venues in the future.
Bitcoin transactions take place directly between the seller and the buyer, which means that there are no financial institutions or banks to act as intermediary. Digital currencies such as bitcoins even have lower transaction fees, and allow both individuals and businesses to conduct business faster and cheaper.
GreenRushReview.com strives to be a convenient and reliable online resource for all cannabis consumers, entrepreneurs, and investors. The website aims to provide the general public with extensive coverage on features, news, opinions, and events on the multi-billion marijuana industry and culture in North America, including industry stocks, prices, implications, trend developments, investment opportunities, business opportunities, and legislation.
The site also hosts cannabis industry video, press releases, a business directory and events calendar.
The coining of the term "Green Rush" refers to the swift surge of activity brought about by the legalization of medical marijuana in over 23 states, and the acceptance of comprehensive cannabis and medical marijuana programs.
Companies seeking exposure on GreeRushReview.com and it's cannabis website network can contact editorial(at)greenrushreview(dot)com for more information.