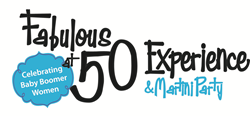 Says Author, Donna Faye Randall, "Menopause can be a mind-blowing experience. These trying times that can be made less crazy if we know the scoop, approach ourselves and our circumstances with a sense of humour, and share our stories."
Victoria, B.C. (PRWEB) April 16, 2015
We've come a long way, Baby, but for many Baby Boomer women, menopause is still a hot topic. Previous generations of women were silent on the topic, unable to pass onto younger women the wisdom of their bodies as they transitioned out of their childbearing years. Menopause can be quite an earth shaking experience for many women as they feel like they are falling into a vortex of the unknown. The fact is, it's an inevitable part of life for half the population. There's a lot of misinformation out there and that's why it's so important that Baby Boomer women do not suffer in silence, shrouded in embarrassment.
In an effort to 'change the change,' Fabulous@50 Victoria Director, Annie Pool, is hosting a Fabulous@50 Tea Party which will feature guest speaker, Donna Faye Randall, the author of the striking new memoir, "Menopause or Lunacy: ...That is the Question." The event will take place in the elegant surroundings of Venus Sophia Cafe and Eatery on Thursday, May 28 from 6:30 to 9:30 pm.
Randall will share strategies with Baby Boomer women that can make the effects of menopause less crazy once they know the scoop. As an experienced sexuality educator, Randall knew what to expect from menopause, but she was unprepared for the chaos that would follow. "Menopause can be a mind-blowing experience," she says. "These trying times can be made less crazy if we know the scoop, approach ourselves and our circumstances with a sense of humour, and share our stories."
To celebrate the changes Baby Boomer women are going through, the evening will also include a mini fashion show featuring couture fascinators from Lynda Marie Couture Millinery. Lynda Marie is a local designer in Victoria who has studied traditional techniques of Millinery in London, England with the legendary Rose Cory (previously appointed Milliner to the late Queen Mother). Lynda Marie has also had further training in New York studying with the prestigious Anya Caliendo.
Guests at The Fabulous@50 Tea Party will be be eligible for several door prizes as well as The Fabulous@50 Grand Prize which includes an inside out makeover valued at over $2000.00. The Grand Prize features 4 hours of powerful coaching with Life Transitions Coach, Sue Maitland, a complete hair and makeup makeover from The Arq Salon, a Classic Black and White Portrait session and frame from Melissa Welsh Photography, and much more.
Part of the proceeds from all ticket sales will be donated to Project: Forgive, the documentary and non-partisan educational organization which provides a deep inquiry to the questions about what it means to truly forgive.
About Fabulous@50:
Fabulous@50 fills a need in the community: to enable Baby Boomer women to reach their full potential and fulfill dreams they may have been postponed while raising children or working at a mundane job.
Fabulous@50 was founded in Edmonton by Dianna Bowes. Victoria is the second community to benefit from this unique organization (a third was recently launched by JoAnna Neweduk in Calgary). Annie Pool signed on as the Director for Victoria in November 2014.
Fabulous @50 has grown into a community of over 500 members and a following of over 3,000 women. It has a monthly e-newsletter and the Be Fabulous! magazine published twice yearly, and holds dozens of events annually. There have been six major trade shows in Edmonton, and in 2014, for the first time, shows in Grande Prairie and Red Deer, Alberta.
In the past year, Fabulousat50 Victoria Director, Annie Pool, has successfully overcome cancer, became an International Best Selling author and is the first official licensee for Fabulous@50. Her greatest passion is to inspire other women like herself to see their own hidden, unlocked potential so that they can believe their dreams can come true, too, even beyond their wildest imaginations.