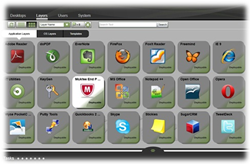 Marlborough, Mass. (PRWEB) April 15, 2015
Unidesk Corporation, the leading provider of desktop and application management software for the cloud, announced today that it has expanded its Unidesk Solution Partner (USP) program for value-added resellers (VARs), system integrators and service providers. The enhanced program aims to provide current and future partners with the tools and resources they need to help customers modernize the end-user computing experience, leveraging Unidesk's ability to bring simplicity and scale to the management of remote Windows desktops and applications.
VDI has been stalled by cost and complexity, preventing VARs from fully capitalizing on the opportunity to help customers provide access to Windows applications anytime, anywhere, from any device. With Unidesk layering innovation and the benefits of the new partner program, VARs can now:

Bid on any VDI opportunity: Unidesk is the open management solution that works with Citrix XenDesktop, Microsoft VDI and VMware Horizon on both Microsoft Hyper-V and VMware vSphere, accommodating customers' needs for choice and flexibility.
Offer VDI at lower cost than PC replacement: Unidesk is setting a new value bar for VDI by reducing both the capital and operational costs of deployment and management. Unidesk finally makes VDI cheaper than PCs, especially when paired with Citrix XenDesktop or Microsoft VDI on Hyper-V.
Benefit from the infrastructure drag created by VDI: Unidesk has more than 1,000 customers, most sold through the channel. Unidesk software is proven to create 10X more business for its partners in the form of VDI storage, hosts, thin/zero clients, software licensing, and services.
Accelerate repeat purchases of VDI. Unidesk radically reduces the level of IT expertise and time needed to implement and manage VDI. By empowering their IT clients to simplify and scale deployments, Unidesk Solution Partners will enjoy faster follow-on purchases.
Give customers an on-ramp to the cloud: Implementing VDI internally on a private cloud is the best way to get end users accustomed to accessing their Windows desktops and applications from any device, paving the way for a move to the public cloud.
"Our expanded program meets the needs of our growing partner base by delivering meaningful value and impact to their business," said Samantha Foster, vice president of alliances and channel, Unidesk. "VDI has been too complex and challenging. Now, our partners – a true extension of our company – have a customer-proven solution, game-changing technology, support for Citrix, Microsoft and VMware, and the tools they need to identify, nurture, and close business."
The expanded USP program provides a one-stop shop for lead generation, sales enablement, education and training, and support, as well as access to Unidesk team members to maximize VAR success.
"Unidesk's expanded solution partner program delivers a simpler experience and expanded resources for us as a partner," said Michael Butz, president at UltraLevel. "This means we are not only able to deliver IT and business efficiencies to our customers, but also a higher level of service quality."
Click here to learn more about the Unidesk Solution Partner Program.
About Unidesk Corporation
Unidesk brings simplicity and scale to the management of Windows desktops and applications in the cloud. With Unidesk layering innovation, IT organizations can deliver applications and Windows updates with ease, while offering the personalization and support that delights end users. Unidesk's open solution supports Microsoft Hyper-V and VMware vSphere and integrates with leading desktop connectivity platforms including Citrix XenDesktop, Microsoft VDI and VMware Horizon. Unidesk is a privately held company headquartered in Marlborough, Mass., with authorized solution partners around the world. For more information, visit http://www.unidesk.com.