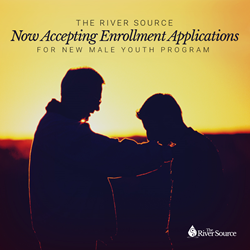 Unlike most teen rehab treatment programs, The River Source offers traditional medical detox as part of their residential teen program, which is rare for most teen treatment programs.
Mesa, AZ (PRWEB) April 15, 2015
The River Source is excited to announce their new Youth Substance Abuse and Addiction Treatment Program. The program is offered at the Mesa, Arizona residential facility only at this time. They do plan to extend the program to youth at their outpatient treatment facilities in future months.
The youth program is offered to male teens only from the ages of 13 to 17 years old. Consistent with their other drug and alcohol treatment services, the new youth program will focus on treating the underlying issues of substance abuse rather than just the symptoms of the disease.
Different than most other teen rehab treatment programs, The River Source offers detox as part of their residential inpatient program. This includes medical detox using traditional methods in conjunction with supportive naturopathic therapies. Patients will be provided with nutritious meals and have the opportunity to participate in exercise programs, such as yoga.
Once individuals in treatment complete the initial detox phase of the program they will continue their treatment through holistic methods. The River Source has found that individuals seeking long term recovery are most successful when they are taught how to restore balance in their lives through a strong spiritual connection to a higher power. Patients are also taught yoga and meditation techniques to enhance their mind, body, spirit connection.
Education is also an important part of The River Source Youth Program. Education is offered in a number of ways, including music and art therapy. Teens in treatment also have the option to continue their education through online classes or coursework supplied by their school. The academic support provided helps teens focus on their studies and even prepares them for their GED for those interested.
As part of the inpatient rehab treatment individuals will be taught the 12 step program, including the Big Book, 12 x 12, interactive journals and more. The 12 step program focuses on peer support and there will be opportunities for individuals to participate in 12 step meetings that are centered around teens. Other peer support groups are also offered.
The River Source believes that family involvement is key to long term recovery, especially for teens. The Youth Program includes family enrichment through supportive activities that will strengthen the family bonds. Parents will have continued access to the youth treatment team and will receive regular updates on their child's addiction recovery progress.
The River Source is proud to be a provider of youth and adult addiction treatment services in Arizona and looks forward to many more years of saving lives. Their services are affordable so they can help a wider range of individuals and they also accept most types of insurance. Individuals from out of state who graduate their residential program can also be reimbursed for their flight expenses.
If you would like to learn more about The River Source and their new youth program, please visit their site at: https://www.theriversource.org/programs/youth/.
About The River Source
The River Source is a drug and alcohol addiction treatment center with locations in Arizona City and Mesa, Arizona. They have been offering detox, drug and alcohol addiction treatment services in Arizona for over 20 years with a special focus on holistic modalities, the 12 step program and naturopathic treatments.