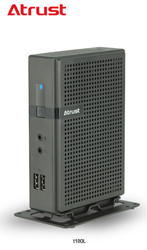 Taipei, Taiwan (PRWEB) April 16, 2015
Atrust Computer Corp., the leading thin client computing and server manufacturer and VMware Technology Alliance Partner (TAP) program member, today announced certification for VMware Horizon View 6.1 on Atrust's PCoIP zero client device w100.
Atrust w100 supports new features:

Bria Softphone UC Solution from CounterPath is now supported with Amazon WorkSpaces and includes improved call handling. The inbound ringer audio can be configured to play on both an external speaker as well as a headset. All VM audio output is sent to the speaker as a result of enabling this configuration.
VMware Horizon 6 RDS application delivery. Users are now able to select a specified VMware Horizon RDS application in full screen from the published list.
Improved Experience for Imprivata OneSign Environments with the inclusions of a failover VCS link and storage of the last used OneSign domain name at the top of the drop-down list.
Smart Card Enhancements. Support for Gemalto IDCore 3020 and BuyPass Smart Cards added along with the initiation of communication with the connection broker when a smart card is inserted.
SHA-2 security update (SHA-1 Deprecation).Increase security using current encryption methods via SCEP. SCEP certificate requests now ask for SHA-256 certificates instead of SHA-1 certificates.
Atrust offers an extensive lineup of Windows and Linux-based thin clients that are ideally suited for VMware View deployment and deliver a range of performance and features to support a wide variety of user needs. For more information, please go to http://www.atrustcorp.com