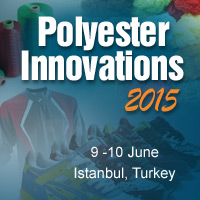 Polyester Innovations 2015 will explore changing dynamics of polyester end user applications, market trends, recycling and sophisticated innovations.
Istanbul, Turkey (PRWEB) April 22, 2015
With the global polyester fiber market expected to reach USD 110.86 billion in 2019 and Turkey being a major polyester hub, the summit's agenda is tailored with a perfect mix of sessions covering global polyester market trends, recycling developments and market oriented innovations. In his opening speech, Yavuz Eroglu, President, Turkish Plastics Industry Foundation (PAGEV) will unveil Turkey's PET market trends vis-à-vis polyester industry, especially the 'Status Quo of Turkey's PET Industry & its Safeguard Duty'.
Representing the major market players, Rakesh Gaur, Sector Head – Polyester of Reliance Industries Ltd will provide a holistic overview of 'Changing Dynamics of Polyester Led Growth in Textile & Nonwovens' while Kamlesh Parwani, Global Development Manager, MEGlobal International FZE will lead an insightful session on 'Global MEG Supply Demand in Low Crude Oil Price Regime'? In addition, market analysis of 'Viscose/Cellulose & Cotton Situation vis-à-vis Polyester Fiber Market' will be shared by Ernst Sandrieser, President, Bright Field International Ltd.
To showcase polyester recycling trend are two key sessions: 'Economics and Market Viability of ReNEW™: Producing Recycled 'Ester' and Textile Fibers from De-polymerization of Post-Consumer PET Bottles' jointly delivered by Dr. Vivek Tandon, Chairman & Director and Vikram Nagargoje, Director of perPETual Global Technologies Ltd plus 'Advances in Bottle to Fiber Recycling Technology' by Dr. Wolfgang Ernst, Vice President, BB Engineering GmbH.
New applications and innovations in polyester will also be discussed by Welspun India, Mogul Tekstil Sanayi ve Ticaret A.S. and Oerlikon Neumag. Last but not the least, the agenda has a line-up of sessions by Frost & Sullivan, Next Technology Tecnotessile Società di Ricerca r.l. and Sasa Polyester Sanayi A.S.
View the full program agenda or contact Ms. Hafizah at +65 6346 9218 for more details.