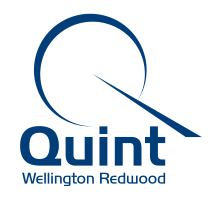 "Being named to the World's Best Advisors list is no easy task," said Michael Corbett, IAOP Chairman. "IAOP is pleased to recognize Quint Wellington Redwood for their excellence and achievement."
New York (PRWEB) April 16, 2015
IAOP®, the International Association of Outsourcing Professionals, has once more drawn up the list of the world's top-20 outsourcing advisors. The independent international expert jury of IAOP accorded Quint Wellington Redwood as the 'highest rated' in two of the three categories: 'Delivery Excellence' and 'Programs for Innovation'. In achieving this, Quint, a boutique consultancy firm, has left large consultancies standing.
Full Star – Highest Rated
All consultancies were assessed on four essential features. Quint scores much higher than the average across the market: Customer References (19% above average), Company Recognition (36% above average), Company Certification (74% above average) and Programs for Innovation (122% above average). New this year is the extra weighting on Delivery Excellence (value creation for customers and acknowledgment received within the industry, plus relevant professional certificates at organizational and individual level), and Programs for Innovation (innovation programs that create new forms of value for customers and the market). Quint received the "Full Star - highest rated' in both categories, and was thus listed the best of all consultancy firms in these categories.
Alex van den Bergh, Sourcing Advisory Lead at Quint, has this to say: "Only by focusing on success and helping our clients to be successful can we make the right impact. The fact that we were awarded 'highest rated' for 'Delivery Excellence' and 'Programs for Innovations' is confirmation of this. At the same time, both within and outside Quint, we have initiated a number of comprehensive innovative initiatives, including Social Enterprise/Sourcing, Cloud Sourcing and Strategy. It is our firm belief that we need this sort of comprehensive innovation to give us that 'competitive edge' that our customers appreciate. The recognition that the international jury of IAOP has given us is an inspiration that will help us to continue along this path." Van den Bergh adds, "This ranking as best in a 'league of extraordinary companies' fully confirms that we are recognized as an top player. It gives us the strength to continue promoting our 'dare to challenge' mentality."
"Being named to the World's Best Advisors list is no easy task," said Michael Corbett, IAOP Chairman. "IAOP is pleased to recognize Quint Wellington Redwood for their excellence and achievement."
Publications and more information
The World's Best Outsourcing Advisors forms part of The 2015 Global Outsourcing 100 ® that also lists service providers. The results of the jury's deliberations in full can be found at http://www.iaop.org; the results will be published at the start of June 2015 in a special edition of FORTUNE® Magazine. IAOP is the leading organization in terms of improving outsourcing results by bringing together clients, providers and advisors in an environment based on collaborative effort and expertise that promotes professional development, acknowledgment, certification and excellence. IAOP has more than 120,000 members and affiliates worldwide, and follows the latest trends closely, while also helping to shape them. IAOP helps its members to learn, to grow and to be successful with an extensive international network of departments, first-class training and certification programs, an expertise center, a members' community and other activities. See http://www.IAOP.org for more information.
About Quint Wellington Redwood
Quint Wellington Redwood – or Quint for short – is a leading independent management consultancy dedicated to solving IT-related organizational issues. With its transnational outlook, its services cover 49 countries and four continents. Quint focuses in particular on sourcing advice, governance, Lean IT and performance and information management, in each case developing and implementing best practices worldwide. Quint was established in 1992 with the aim of helping organizations get more out of their IT. Not by adding more IT, but by organizing it better. For more information on Quint, see http://www.quintgroup.com