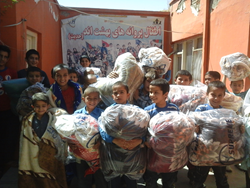 Supreme Foundation has been supporting these organizations for the past few years with the aim of investing in community projects that make a real difference in people's lives, said Aimee Warren, Foundation Manager
Kabul, Afghanistan (PRWEB) April 16, 2015
Supreme Foundation has continued with its charity work in Kabul, Afghanistan by donating a number of household items to Tomorrow's Hope Foundation, along with extra computers to Afghan Action.
The items donated to the Tomorrow's Hope Foundation orphanage include computers, kitchen equipment, furniture, miscellaneous goods and catering theme kits, which will allow the orphanage to create better living conditions for the children, making it more conductive for a better learning environment and individual development.
Tomorrow's Hope Foundation looks after over 100 children aged from six to 14 years by providing shelter and support to orphans and homeless children, ensuring they have a home, education and hot meals. The orphans' tales reflect the country's struggles. Some are left behind by families that were victims of the war while others still have a parent living but can no longer be supported.
Supreme Foundation has also further supported Afghan Action, a training and business incubation center that focuses on the carpet weaving and tailoring trade, by donating two computers to add to their small IT lab. These will be used to train and equip individuals from the local community with the necessary skills needed to learn a trade and eventually support themselves financially.
"Supreme Foundation has been supporting these organizations for the past few years with the aim of investing in community projects that make a real difference in people's lives. Through our partnership, we have achieved excellent results that have raised hope and given people a chance for an improved life in Afghanistan and in other conflict areas around the world where Supreme Group operates. We understand that simple acts like this have an immense impact in the life of these children and individuals and are very happy to have the full support of our employees, who donate generously and support our campaigns in every way," said Aimee Warren, Foundation Manager.
Supreme Foundation aims to alleviate hardship and improve the health, education and living conditions of disadvantaged children in conflict areas and remote regions around the world where Supreme Group operates. The non-profit organization helps children to develop the skills, knowledge and experience to lead successful, sustainable lives and contribute to their families, communities and countries. The Foundation has made substantial investments in schools, healthcare facilities, and housing developments in Bosnia, the Ivory Coast and Afghanistan.
The Foundation provides active support or donations of food, clothing, furniture, fuel, school and kitchen equipment, computers, medical supplies and more.
For more information, visit http://www.supreme-foundation.org, find us at http://www.facebook.com/supremefoundation or email supreme.foundation(at)supreme-group(dot)net
-End-
About Supreme Group:
Founded in 1957, Supreme Group is a global leader in the provision of end-to-end supply chain solutions to defense, government, and commercial sector clients around the world. For more than fifty years, the company has provided critical, life-sustaining services that empower clients to accomplish missions in challenging and austere environments.
Supreme offers a unique breadth of capabilities, including procurement, transportation, storage and site services. Supreme has a long history of supporting international organizations and governments. Its current clients include the United Nations (UN), the North Atlantic Treaty Organization (NATO), and leading military forces including the US Department of Defense (DoD) and the UK Ministry of Defence (MoD). Over the years, the company has also partnered with many commercial clients.
As a socially responsible organization, Supreme Group strives to maintain the highest standards of ethics and integrity across its operations at all times. It is committed to respecting people and the environment; nurturing community development; implementing sustainable business practices; and giving back to the communities in which it operates.
More information on Supreme Group can be found by visiting http://www.supreme-group.net
For other information, please contact:
Ana Seixas
Head of Corporate Communications
Corporate Communications
Supreme Group
D +971 4 350 8009
M +971 56 188 3995
ana(dot)seixas(at)supreme-group(dot)net