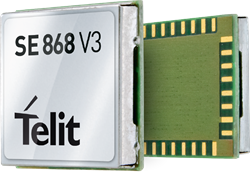 "The SE868-V3 is yet another addition to our positioning product portfolio, which is the result of over twenty years of experience in GNSS applications," said Felix Marchal, Chief Product Officer, Telit
London, UK (PRWEB) May 04, 2015
Telit Wireless Solutions, a global enabler of the Internet of the Things (IoT), today announced the release of a new GNSS module, the SE868-V3. This positioning module combines GPS, Glonass, Beidou, Galileo, and SBAS which enables the creation of high-performance position reporting and navigation solutions.
The SE868-V3 can navigate to -162 dBm and track to -166 dBm, thereby providing improved performance in harsh environments. It is pin-to-pin compatible with the former SE868-V2 as well as the JF2. This advanced GNSS module can track GPS and Glonass or GPS and Beidou constellations simultaneously and it is Galileo ready.
The 11 x 11 mm QFN package contains a powerful baseband processor, SQI Flash memory and GNSS chip with integrated Low Noise Amplifier (LNA). The ultra-sensitive RF front-end enables multi-GNSS indoor fix and hi-quality navigation in challenging outdoor scenarios such as dense urban areas.
In addition the SE868-V3 supports ephemeris file injection (A-GPS) as well as Satellite Based Augmentation System (SBAS) to increase position accuracy. Its onboard software engine is able to locally predict short-term ephemeris starting from data broadcast by GNSS satellites received by the module and stored in the internal Flash memory.
"The SE868-V3 is yet another addition to our positioning product portfolio, which is the result of over twenty years of experience in GNSS applications," said Felix Marchal, Chief Product Officer, Telit. "Our products are compatible with the GPS constellation as well as its Russian counterpart Glonass and China's Beidou."
About Telit
Telit Wireless Solutions (AIM: TCM listed as Telit Communications PLC), is the global leader in Internet of Things (IoT) enablement. The unique Telit combination of products and services feed data directly into apps and/or business IT systems to deliver real-time intelligence to businesses across multiple industries. The Telit ONE STOP. ONE SHOP. offering reduces cost, time to market and risk associated with the adoption of IoT solutions by delivering a broad portfolio including 2G, 3G, 4G; automotive- and industrial-grade cellular modules; short-range wireless modules; positioning (GPS/GNSS) receivers, and related cloud and connectivity services. Visit http://www.telit.com for more information.
# # #
Copyright © 2015 Telit Communication PLC. All rights reserved. Telit, Telit Wireless Solutions, Telit Communication PLC, telit.com, telit2market, Telit Technical Forum, m2mAIR, m2mAIR.com, secureWISE, deviceWISE and all associated logos are trademarks of Telit Communications PLC in the United States and other countries. Other names used herein may be trademarks of their respective owners.