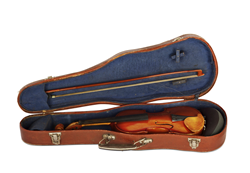 The situation is better than it was for musicians... but there is a rift in the lute
(PRWEB UK) 15 April 2015
Global courier Fastlane International is warning that a new US ruling, which says that musicians flying with their instruments can't be stopped from carrying them aboard, may well prove to be an unfinished symphony. The new US Department of Transport ruling which came into effect last month, came as music to musician's ears. However, international delivery experts Fastlane International warn that things may still go off-key for passengers trying to load their instruments.
Fastlane International's Head of Publications, David Jinks MILT, says: 'The ruling seems fair, but in fact all is not harmony. The ruling says that airlines can't refuse to carry small instruments in lockers. However, if the lockers are already full, airlines are not required to find room in the cabin. Musicians may find they have to pay extra for priority boarding in order to secure overhead locker space.'
David also warns that those airlines that routinely ask for payment for a second item of cabin baggage can still ask for this on an instrument, if the customer has another cabin luggage item with them.
The new rules apply only to US carriers, and specify instruments the size of a violin or a guitar must be allowed aboard if there is locker space. BA, which does not need to comply with this rule, was recently criticised by the UK's professional society for musicians, the ISM, for changing its policy and restricting instruments in lockers to less than 56cm x 45cm x 25cm. That's too small for a violin, for example. The ISM has worked with EasyJet to allow for instruments the size of violins and trumpets as cabin luggage.
Adds David: 'There is still the option of paying for an extra seat to transport larger musical instruments such as cellos, and US airlines are now no longer able to make cheeky charges above the usual fee for another seat: such as an extra charge for musical instruments. However the new ruling has stopped short of legally requiring airlines to have seats that can hold instruments. The ruling only applies where existing seats will accommodate instruments securely and without blocking warning signs and exists.'
Drummers, tuba players and other musicians who play large instruments can fly their instruments as part of checked baggage and the US Dept of Transports new ruling says carriers must take these items. However, the rule states that carriers may impose the same checked-baggage charges on instruments that apply to other items of that size and weight. These charges can be significant.
Says David: 'The situation is better than it was for musicians flying by US registered airlines but there is a rift in the lute. There are still expensive fees that might unexpectedly hit people carrying instruments on their flight. However, there is a good alternative. Couriers such as Fastlane International are experts at sending ahead luggage, including musical instruments. Thousands of our customers prefer to use our luggage delivery service each year instead of paying the extortionate excess baggage fees charged by airlines; and musicians know we will take care of their precious instruments.'
For more information on sending luggage items and instruments ahead see: http://www.wedelivertheworld.co.uk/courier-services/luggage-delivery/