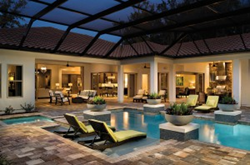 Tampa, FL (PRWEB) April 15, 2015
Luxury custom home owners are often no different from everyone else when it comes to selecting furniture for their new homes. It remains difficult and the new article by a custom luxury home builder illustrates this. The article also addresses the process of how furniture is selected for custom luxury homes.
The article on selecting furniture from Arthur Rutenberg Homes breaks down the way that new furniture finds its way into new homes.
Assessing home owner needs is the first step and the article presents ways to analyze these needs. The second area reviews how to match styles for specific homes. Third, figuring our how climate concerns affect furniture are explored. Additionally, accessories are reviewed and presented.
Read the full article here about selecting outdoor furniture.