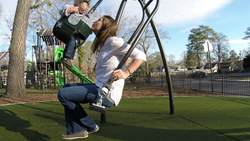 Expression Swing is a wonderful design that brings many foundational elements of play, based on good play science into action.
Fort Payne, Alabama (PRWEB) April 17, 2015
GameTime, a leading manufacturer of commercial playground equipment, is proud to announce the release of Expression Swing™, a patent-pending, face-to-face playground swing that allows adults and children to swing together. Research shows that social, mixed-age play provides significant health and cognitive benefits for adults and children, and the Expression Swing is the first product of its kind to promote such intergenerational play.
The design and engineering teams at GameTime sought to create a play activity that allowed adults and children to engage in play together, in a way that is compliant with playground safety standards. "We see a lot of parents pushing young children on a swing, but they have limited interaction with them. When you're standing behind a swing, you can't see the expression of joy on your child's face," says Tom Norquist, Senior Vice President of Marketing and Product Development at GameTime. "We also see parents sitting on a swing with a child in his or her lap. This does allow an adult to be involved in play, but it's not compliant with safety standards. We knew we had to find a better way."
Expression Swing combines an exclusive, ergonomically-designed platform seat for adults and a bucket seat for young children. The seats face each other and are positioned at eye level, so that the adult and child can interact visually and verbally with one another during play. The swing was carefully designed to meet ASTM and CPSC guidelines for children's playgrounds.
During the development of Expression Swing, GameTime studied the research of world-renowned play expert, Dr. Stuart Brown, M.D., the founder of the National Institute for Play and the author of Play: How it Shapes the Brain, Opens the Imagination, and Invigorates the Soul. Dr. Brown's research includes the study of "play attunement," a scientific principle in which the human brain is "stimulated" when parent and child make eye contact during play.
"The Expression Swing is a wonderful design that brings many foundational elements of play, based on good play science into action," said Dr. Brown. "This swing allows mutual joy-filled eye contact that activates the hard-wired play 'state' to spontaneously and vigorously emerge. It allows intergenerational mutual play to occur throughout the life cycle and stimulates cerebra-cerebellar circuits that we know are hugely important for developmental competency."
Learn more at gametime.com/expression
Watch The Science Behind Expression Swing on YouTube