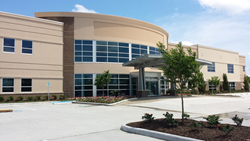 Houston, TX (PRWEB) April 16, 2015
Medistar Corporation ("Medistar") announced completion of construction at the new Bay Area Rehabilitation Hospital in Webster, Texas. Located on the southeast corner of Medical Center Boulevard and Highway 3 in Webster, TX, this 53,514 square foot, 45-bed inpatient rehabilitation facility ("IRF") complements the full-service medical and surgery services provided by Bay Area Regional Medical Center.
Further enhancing the City of Webster as "the Medical Center of the South", Bay Area Rehabilitation Hospital is operated by Post Acute Medical ("PAM"), headquartered in Enola, PA. Led by Principal, President and Chief Executive Officer Anthony F. Misitano, PAM is a leading provider nationwide of health and patient services for Long-Term Acute Care, Inpatient Rehabilitation, Outpatient Rehabilitation, Residential Brain Injury and Comprehensive Wound Care.
In addition to comprehensive inpatient and outpatient physical therapies, Bay Area Rehabilitation Hospital features a specially designed unit for the treatment needs of individuals who have suffered traumatic brain injury, stroke or neurodegenerative disorders, such as Parkinson's disease. Said Mr. Misitano, "Integral to all facets of our operations is strong physician leadership, which drives quality in all aspects of patient care."
The completion of Bay Area Rehabilitation Hospital continues Medistar's longstanding partnerships with operators of modern post-acute healthcare facilities, including the recently completed Heartland Rehabilitation Hospital (45-bed IRF in Overland Park, Kansas) and Landmark Hospital of Savannah (50-bed long-term acute care hospital in Savannah, Georgia).
"Providing quality post-acute care for Bay Area seniors is the highest priority for Mr. Misitano and his organization. With the opening of Bay Area Rehabilitation Hospital, the best and most modern resources are available to PAM to deliver unparalleled levels of care and service," said Medistar's Founder and CEO, Monzer Hourani.
Cobalt Medical Development ("Cobalt") co-developed the real estate with Medistar and is co-owner of the operations with Post Acute Medical.
About Medistar Corporation (http://www.MedistarCorp.com)
Medistar is a full-service medical real estate development company that primarily specializes in the design, development, financing, acquisition and construction of acute care hospitals, post-acute care hospitals, medical office buildings and related facilities for the healthcare industry nationwide.
About Post Acute Medical (http://www.postacutemedical.com)
Post Acute Medical is committed to providing high quality patient care and outstanding customer service, coupled with loyalty and dedication of highly trained staff, to be the most trusted source for post-acute services in every community it serves.
About Cobalt Medical Development (http://www.cobaltmedicaldevelopment.com)
Cobalt is a healthcare real estate development and investment company dedicated to providing comprehensive real estate solutions in high bed need and under met demographic locations. Each development at Cobalt is built to minimize risk and maximize results in the communities they serve.
# # #
Media Contact:
Paul McCleary
Vice President – Business Development, Medistar
pmccleary(at)MedistarCorp(dot)com
713-266-8990