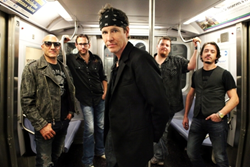 Fairfield, CT (PRWEB) April 15, 2015
Fairfield Theatre Company welcomes 90's alternative rock band the BoDeans to StageOne in celebration of their newest album release, "I Can't Stop," at 7:30 p.m. on April 21.
Long known as one of the best live acts in the business, the BoDeans have continued to tour year round and deliver amazing, high energy performances since forming back in 1984.
"I realized some time ago that the key to the BoDeans identity is the fans' connection to our music; nowhere is that more evident or rewarding as when we come together live. We love to connect with fans who have supported us for so long and brought us so much inspiration," says Kurt Neumann, the band's founder and frontman.
After working with legendary producer T-Bone Burnett on their debut album, "Love & Hope & Sex & Dreams," which appeared to warm reviews, the BoDeans recruited yet another big-name producer a year later, Talking Head Jerry Harrison, to helm 1987's "Outside Looking In," which broke the young band into the Billboard's Top 100 and helped launch their career into stardom.
It wasn't long until the BoDeans cracked the Billboard Top 20, largely because of the smash hit, "Closer to Free," the band's most successful single which was chosen as the theme song for the hit TV show, "Party of Five."
Since then, the BoDeans have continued doing what they love by bringing their mix of Midwestern roots rock and adult contemporary pop to the masses across the country and the world. It is this uniqueness which has led the Waukesha, Wisconsin-based band to tour alongside legendary band U2, appear on Robbie Robertson's (The Band) self-titled solo album, and receive the honor of being called the Best New Band by Rolling Stone magazine.
But they are not finished yet. The BoDeans now storm into FTC's intimate StageOne venue with a special album release show that will feature band members Kurt Neumann (singer/guitar), Kenny Aronoff (drums), Eric Holden (bass), Sam Hawksley (guitar), Stefano Intelisano (keyboard/accordion) and Eamon McLoughlin (fiddle/mandolin). It is sure to be a night of well-timed riffs and catchy hooks to an enthusiastic audience that will be rocking and rolling from the very first note they perform. It's not very often that a band of this magnitude performs such an intimate space, let alone releases a new album the same night, so this is sure to be a special event.
So grab your 90's flannel shirt and make your way down to the Fairfield Theatre Company, as the BoDeans present a special album release party to an adoring fan base that will once again demonstrate why they are one of the best and most talked about bands in history. FTC strongly encourages fans to buy tickets early because events like this don't happen often and always turn into the most highly talked about shows of the year.
BoDeans
Date: Tuesday, April 21
Doors: 7 p.m.
Show: 7:30 p.m.
Venue: StageOne 70 Sanford St., Fairfield, CT 06824
Tickets: $47 Adv. Members Discount $5
Buy tickets: Box Office: 203.259.1036 or reserve online: http://www.fairfieldtheatre.org
About the Company:
Fairfield Theatre Company is a highly-acclaimed non-profit performing arts organization located in the heart of downtown Fairfield, Connecticut. FTC presents nearly 250 performances and concerts each year featuring outstanding national talent on FTC's StageOne in Fairfield, The Klein Auditorium in Bridgeport, and the Norwalk Concert Hall in Norwalk. FTC's intimate 200-seat StageOne concert venue is widely recognized as being one of the best places to see a live performance in the region. FTC is dedicated to providing the highest-quality arts, live entertainment and educational experiences to the communities it serves.