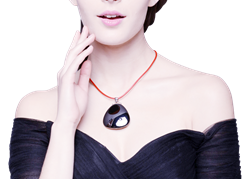 (PRWEB) April 15, 2015
"Miragii" was featured on NewsWatch as part of its monthly Tech Report, which features the latest and coolest technology products available to consumers. Scott Steinberg, a technology expert and special reporter for NewsWatch, conducted the review and shared with viewers how this is a really unique approach to wearable technology.
Fashionistas around the world would agree that wearable technology isn't always fashionable. Well, Miragii just announced a smart necklace for all the tech gurus interested in fashion. The necklace is a beautifully crafted pendant that's made out of world-class premium ceramic. However, the necklace also doubles as a Bluetooth device that can project text messages, caller ID, and accept or deny phone calls.
After a person puts on the Miragii necklace, they connect it to their smartphone. This function enables the wearer to receive texts and calls right from the pendant. So when a person receives a text message, all they have to do is hold out their hand and Miragii with project the message into their palm. They can use hand gestures in front of the pendant to scroll down through text messages, or even to ignore calls. If the wearer wants to answer a call, they can take out the ear piece in the side of the pendant and chat away.
There's an application that works in conjunction with Miragii, enabling the pendant to also project Facebook and Twitter posts. Right now, the caller ID and text messaging function are compatible with iOS 6.0 above and Android 4.4 above. They are working on a cloud based service that will be associated with the app, which will even provide additional safety and caring features for users.The Miragii necklace can be pre-ordered online for $399.
To learn more, please visit http://www.miragii.com today.
About NewsWatch
NewsWatch is a weekly 30-minute consumer oriented television show that airs on the History Channel, FYI Network, and ION Network. NewsWatch regularly features top technology products and services, mobile applications for iOS, Android, and Windows devices, unique and beautiful travel destinations around the world, health and medical tips, and entertainment interviews on the show. NewsWatch airs on the History Channel at 6:00 – 6:30 AM ET/PT and on the FYI Network from 7:00 – 7:30 AM ET.
NewsWatch is located in the greater Washington, DC area and has been on air for over 25 years. For more information or to watch the most recent episode, visit http://newswatchtv.com/tech-report.html.