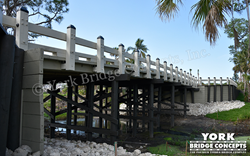 Sarasota, FL (PRWEB) April 27, 2015
YBC has unveiled its most recent Decero™ Designed York Timber Vehicular Bridge in Sarasota, FL. With special guests including the Wilson Family, Judge Roy Dean and residents of the community at the recent ribbon cutting ceremony, the bridge was dedicated to the Wilson Family and will serve as a testament to the Wilson family's dedication and service to Sarasota County and its people. With the unveiling of the historic bronze plaque that will be mounted on salvaged rock next to the York Bridge, Taylor Morrison honors the long held Wilson family tradition of hosting friends and family for over half a century – linking to the past, present and future.
Partnering with Esplanade by Siesta Key by Taylor Morrison, this York Timber Vehicular Bridge blends with extended retaining walls that carry the rails off the bridge and merge seamlessly into the landscape. Featuring a sleek horizontal linear composition that emphasizes the horizon of tropical Florida coastline, the bridge glides over the crossing with a roll that ties it's users to their journey home or to one of the many prestigious amenities in the community. The bridge's exquisite style and lines of grace are adorned with a stylishly bold, yet neutral color palette of warm browns, cool blues, and crisp blacks complimenting the community's modern and classic aesthetic. YBC's Decero™ Design team provided the esplanade with a unique structure that resonates with the community's families as a landmark that welcomes them home; whether they are on foot, bike, or in their car.
With a two-lane Vehicular section and integrated Pedestrian walkway, this unique 85' York Timber Bridge has a HS20 loading capacity with stylish 34" timber vehicular guard rails and 42" timber pedestrian guard rails, exclusively designed for the Esplanade by Siesta Key through York's Decero™ Design approach. As part of their industry-unique York Bridge Services™, YBC distinguishes themselves from the competition by ensuring longevity and aesthetics, combining Polymers with pressure treated timbers to protect the structure from harmful UV rays, extending the service life, increasing safety of the bridge and providing a better return on investment. YBC's Decero™ Design Team chose Esplanade's color palette carefully, taking the surrounding landscape and vision of the development into consideration. "From our Polymer/acrylic-based Cottonwood on the structures posts and railing to our Greenbriar Textured Polymer Coating for the Pedestrian Wear Deck, we are proud to have completed a stunning structure for such an important event and community," affirms James York, YBC's President and CEO.
As the focal point of the development, this York Timber Bridge adds immeasurable value to the nearly 77 acres of new homes featuring Taylor Morrison's high standards of construction, quality and design. "As a landmark structure on Esplanade's Sovita Drive, the Wilson Family Bridge will last for generations to come. We are looking forward to partnering with Taylor Morrison in ensuring that their communities will have landmark design in all crossings throughout the country. As the Green Builder of the Year, we are thrilled to be associated with a company that strives to distinguish themselves through a continued commitment to the environmental footprint – an integral part of our business as the Premier Timber Bridge Builder," confirms Gilda Dreyfus, YBC's Business Development Director. Affirming Mrs. Dreyfus' commentary, Ken Stokes, Project Land Manager for Taylor Morrison adds: "In addition to increasing the value of our Esplanade by Siesta Key Phase 3 lots and entry aesthetics, our custom York Wood Bridge also helped expedite our permitting and construction process greatly. Our residents and Taylor Morrison really appreciate the design integration into the natural and historic surroundings at the bridge site."
About York Bridge Concepts™
York Bridge Concepts, Inc. (YBC) is the nation's largest on-site timber vehicular bridge builder. YBC works with industry-leading owners and developers on prestigious projects throughout the U.S. and internationally, creating more than just a solution for crossing lakes, streams, creeks, wetlands or ravines. In this competitive real estate market, developers who want to ensure that their project stands apart from the competition use York Bridges to add value and create a feeling of exclusivity, warmth, and quality for their customers. Based in Lutz, Florida, with 30 years of experience, YBC has become well-known for their expertise and cutting-edge innovation in the Longevity and Architectural beauty of timber bridge design.
For more information, contact Gil Dreyfus at (800) 226-4178 ext. 109 or visit http://www.ybc.com.