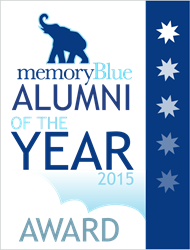 This award symbolizes those who have successfully converted their high potential into some pretty impressive accomplishments
Washington, D.C. (PRWEB) April 16, 2015
Last week memoryBlue announced Sohale Razmjou as the winner of their inaugural Alumni of the Year Award. Razmjou is currently the Director of Cyber Security Technologies at immixGroup and was selected by a panel of judges from a competitive list of eight finalists that originated from a pool of 43 nominated alums.
"This program recognizes the caliber of high-tech sales talent that originates from memoryBlue. We've been fortunate to have some great people choose to start their high-tech sales careers with us, and this award symbolizes those who've successfully converted their high potential into some pretty impressive accomplishments," says Chris Corcoran, Co-Founder and Managing Partner.
"It is an honor for me to be recognized by memoryBlue as the inaugural Alumni of the Year. The finalists for this award are very successful and to be chosen from this group is special," states Razmjou. When asked about the impact memoryBlue has made during his career, Razmjou added, "The culture of memoryBlue is truly remarkable in the industry. The extensive and continuous training you receive accelerates your success and the on-going relationships, with memoryBlue and with Alumni provides an eco-system for professional and personal growth."
The Alumni of the Year Award spotlights the top talent originating from the firm, their accomplishments and their current companies. The program, begun this year, annually recognizes one of the over 100 high-tech sales professionals who have taken their talents to another company after launching their high-tech sales careers at memoryBlue.
memoryBlue Alumni work in some of high-tech's most recognizable names and in some of the industry's hottest emerging companies. Members of the memoryBlue Alumni Network have risen into sales leadership and individual contributor roles adding hundreds of millions of dollars of revenue to these firms.
In addition to peer recognition, the Alumni of the Year Award winner also received $5,000 to use for travel to an exotic destination of their choice anywhere in the world. "Somewhere tropical" is the immediate response from Razmjou when asked about his travel plans. "We're looking at the Turks and Caicos and St. Lucia. As long as it's warm, family friendly, and we can relax. We are going to love it."
About memoryBlue
memoryBlue grows and finds top inside sales talent for high-tech companies through outsourced consulting and direct-hire permanent placement. The memoryBlue "Try + Hire" offering gives clients the option to hire their consultants at any time during an engagement. This powerful model reduces client risk while it attracts top talent to a proven launching pad for future high-tech sales leaders and feeds the memoryBlue Alumni Network.