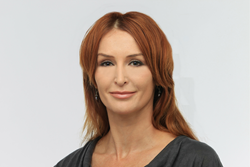 Gretel is a remarkable journalist and a dedicated student of our times. We all are proud to have her represent the U-T as a fellow - Jeff Light
San Diego, CA (PRWEB) April 16, 2015
U-T San Diego, the region's most comprehensive source of news, sports, entertainment and information, proudly announced today that military affairs reporter Gretel C. Kovach has been selected to participate in the East-West Center's (EWC) 2015 Jefferson Fellowships travel-study seminar.
Founded in 1967, the Jefferson Fellowships are the EWC's most widely recognized seminar program, with an illustrious network of more than 650 program alumni from leading news organizations across the U.S. and the Asia-Pacific region.
As a result of the selection, Kovach will join 14 other highly accomplished international journalists on an excursion from May 2-23, 2015, to China, the Philippines, Singapore and Hawaii, to study pressing geopolitical issues in the South China Sea. Throughout her journey, Kovach will file reports that will be published in U-T San Diego.
"We're delighted with the diversity and experience of the group of accomplished journalists that will be traveling together to study crucial South China Sea issues," said Ann Hartman, the EWC's Jefferson Fellowships coordinator. "We'll be looking at a broad range of strategic and security issues, as well as economic topics like oceans as a key source of food and resources, the importance of sea trade, and the need for regional cooperation to ensure freedom and safety of navigation."
Kovach, who has nearly two decades of journalistic experience, joined U-T San Diego in 2010 as a military affairs reporter, with a primary focus on Marine Corps operations. She has reported extensively from the front lines in Afghanistan and Iraq, including stints embedded with U.S. military units. She is also a four-time winner of national journalism awards from the Marine Corps Heritage Foundation, and was honored with the Marine Corps-Law Enforcement Foundation's 2014 Semper Fidelis Award for her outstanding work in bringing the Marine Corps story from the war zone home to San Diego.
"Gretel is a remarkable journalist and a dedicated student of our times. We all are proud to have her represent the U-T as a fellow," said Jeff Light, U-T San Diego's president and editor.
"The rise of the Chinese military is reconfiguring the balance of power in the Asia-Pacific, making China both an ally of the U.S. and a rival for influence in the South China Sea. This generous fellowship from the East-West Center is a unique opportunity to examine a new era in Sino-American relations as the U.S. military steers its fleet toward an important region of the world," said Kovach.
For all other information, including media inquiries, contact Stephanie Brown, U-T San Diego's senior director of marketing and public relations, at stephanie.brown(at)utsandiego(dot)com or 619-823-9794.
About U-T San Diego
The San Diego Union-Tribune, LLC, owner of the 146-year-old U-T San Diego, is San Diego's leading media company and its most comprehensive source of news, entertainment and information in the region. Each week, products are delivered to more than 96 percent of all San Diego County households through its integrated media portfolio: the Pulitzer Prize-winning newspaper, U-T San Diego; the website, UTSanDiego.com; Sunday's Best; The Night + Day, DiscoverSD and DiscoverSD.com weekly entertainment guides; Spanish-language products Enlace and Vida Latina-San Diego; U-T TV, an Emmy award-winning on-demand video news source; and hyper-local community papers, U-T Community Press. For more information visit http://www.utsandiego.com.