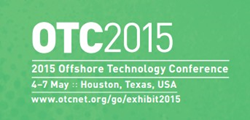 Rice Lake, Wis. (PRWEB) April 21, 2015
Rice Lake Weighing Systems will be on hand at the Offshore Technology Conference (OTC) May 4-7 in Houston, Texas featuring weight-related and process control equipment for the energy market. Energy professionals meet at OTC to exchange ideas and opinions to advance scientific and technical knowledge for offshore resources and environmental matters. With more than 90,000 professionals representing more than 120 countries, OTC is the premier event for global energy experts. Booth #703 will feature Rice Lake Weighing Systems' belt scales, crane scales and onboard weighing solutions.
Rice Lake's onboard weighing solutions provide high-accuracy flow measurement and inventory management solutions for straight trucks, tractor/trailers and stand-up equipment used for product movement in oil/gas operations. Weight and flow data is processed and communicated in real time with Rice Lake's advanced onboard instrumentation. Rice Lake's NTEP Certified onboard systems offer a Legal for Trade solution to generate tickets and receipts on-site. The BCi in-motion belt scale system is ideal for bulk material blending, mining, quarries, process control and truck, barge or rail load-out applications. Driven by Rice Lake's powerful 920i® indicator, BCi belt scales are able to move up to 10,000 tons of bulk material per hour. Booth #703 will also feature Rice Lake's MSI brand of crane scales and handheld displays.
More information regarding Rice Lake's weighing solutions for the energy market can be found at http://www.ricelake.com/energysolutions.
Rice Lake Weighing Systems is an international leader in the manufacture and distribution of weight-related products and process-control equipment. Within this ISO 9001 registered company, progressive new technologies merge with the wisdom of industry experience and create the future of weighing through cutting-edge research and design.