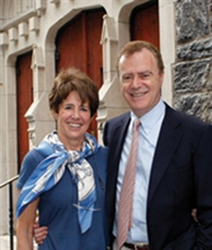 "I always enjoy speaking with parents – they are always immediately impressed with the inclusive, top-tier education we provide our students," said York Prep Headmaster Ronald Stewart.
New York, New York (PRWEB) April 15, 2015
York Prep, a co-educational New York City private school, is hosting its final open house of the academic year from 9:10 a.m. to 10:30 a.m. on Tuesday, April 21, on the Upper West Side of Manhattan. The open house allows parents who are interested in learning more about York Prep's offerings to tour the school and engage with current students and school faculty, including York Prep's headmaster Ronald Stewart who started the school in 1969. Parents will also receive a full overview of York Prep's academic, art and athletic programs and insight into daily life at York Prep.
"We look forward to any opportunity that allows us to open our doors and welcome members of the community into York Prep. I always enjoy speaking with parents – they are always immediately impressed with the inclusive, top-tier education we provide our students," said York Prep Headmaster Ronald Stewart.
York Prep has an average of about 15 students for every teacher. The small classrooms allow for individualized attention from faculty. The school boasts unique course offerings including classes such as Constitutional Law, Marine Biology, and Anatomy and Physiology.
York Prep's academics program is organized on a tracking system, which is designed to provide students with a customized coarse-load of classes that will encourage and challenge them as they continue to learn and grow. Teachers at York Prep regularly assess students' aptitude across subject matters and adjust course recommendations accordingly, to ensure that class placements most accurately match student's individual learning styles.
For students who excel beyond their classroom curriculums, York Prep offers an enrichment sequence called the York Prep Scholars Program, which is available to the top 10-15 percent of students in each class. York Prep Scholars can participate in extra courses in such subjects as robotics and Shakespearian literature for special honors diploma. Conversely, students who need extra help in their classes or require specialized attention are given access to the Jump Start Program, which allows students to meet with a teacher on a one-on-one basis, several times a week.
In addition to strong academics, York Prep also offers a healthy athletics program with more than a dozen teams across three seasons. York Prep's athletics have enjoyed much success over the years. The middle school basketball team recently took home the Independent Schools Athletic League championship title, defeating teams from much larger schools. Other sports include boys' and girls' volleyball, boys' and girls' soccer, baseball, golf and others.
York Prep has recently enhanced its arts department, which offers students the opportunity to take courses in digital and studio art. Students also have access to an abundance of extracurricular activities in theater, poetry and music. The school performs a musical every spring, along with a talent show and an art showcase, to encourage students to share their work. This year's musical production of "Legally Blonde" will run each evening at 7 p.m. from Friday, April 24, through Sunday, April 26, at the Marjorie S. Deane Little Theater on the Upper West Side.
For more information about York Prep, please visit http://www.yorkprep.org. To register for the open house, please email Jennifer Current, jcurrent(at)yorkprep(dot)org.
About York Prep
York Prep is a New York City private school on the Upper West Side, which was founded in 1969 by Ronald P. Stewart, a former barrister, and his wife, Jayme Stewart, author of "How to Get into the College of Your Choice: And How to Finance it." York Prep provides about 350 middle school and high school students, grades six through 12, with a rigorous college prep curriculum that is tailored to meet students' individual needs and play to their strengths. The school also has a thriving performance and visual arts program, boasts a strong athletic department and offers a wide array of student-driven clubs and extracurricular activities. Thanks to a tried and true college preparation strategy, 100 percent of York's students pursue higher education.