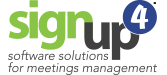 Atlanta, GA (PRWEB) April 16, 2015
SignUp4 announced today their support and involvement in the first annual North American Meetings Industry Day (NAMID). SignUp4 will join with Meetings Mean Business (MMB) and industry leaders, to spotlight the substantial value derived from business meetings, conferences, conventions, incentive travel, trade shows and exhibitions by connecting people and driving positive business results throughout the continent.
The MMB coalition members, in addition to industry leaders across in Canada and Mexico, will host and drive events in communities all across their respective countries.
As a leading event management software provider, SignUp4, has a deep appreciation for the value of meetings and the countless hours event professionals dedicate to the success of their programs. Serving thousands since 1999, SignUp4 has maintained a position at the forefront of both meetings and technology advancements. The meetings and events industry is fast paced and demanding, requiring significant efficiency and enthusiasm for meeting business goals and attendee expectations.
In preparation of NAMID, SignUp4 hosted guest presenter and meetings veteran, Linda Stannard, at their first annual NAMID event. Stannard reminded the SignUp4 team of the true meaning of meetings and shed light on event planners daily challenges and how an event management software company like SignUp4 can continue to partner with their planner clients to show true compassion and sincere interest in every program's success. Stannard added, "As meetings have evolved and technology has become a requirement for efficiency and savings, it's critical for provider and client to work together in a transparent partnership. There's nothing more hopeful than a provider who puts clients first."
The team will also celebrate with an afternoon Meetings Mean Business themed photo booth where employees share ideas of how they define meetings.
"As a technology supplier in the meetings and events space SignUp4 welcomes the opportunity to voice our advocacy of NAMID. We're glad to be a part of this collaborative partnership which recognizes and celebrates the value this industry brings to the business community," stated Nick Romano, president at SignUp4. "This grassroots campaign builds on the already strong partnerships we have with our clients as we support their efforts to bring meaningful meetings to their individual organizations."
David Peckinpaugh, MMB co-chair and president of Maritz Travel, said, "We are energized by the enthusiasm of organizations in cities all across the United States, Canada and Mexico who have pledged their support for NAMID. The meetings and events industry is a contributor to economic growth, a generator of jobs and a driver of positive business outcomes. MMB is thrilled to join with our partners and launch this important advocacy day for our industry."
Visit NAMID at http://www.MeetingsMeanBusiness.com/NAMID to learn more about events happening in your community on April 16, 2015. Follow and participate in the digital conversations at @MeetingsMeanBiz on Twitter and by using the hashtags #MMBusiness with #NAMID15. Download the MMB app, available on iPhones and Android devices, to access industry resources and to stay updated on NAMID activity.
About SignUp4
SignUp4 is the innovative meetings intelligence provider offering the highest quality strategic meetings management solutions with an affordable unlimited usage model. The goal of SignUp4′s meetings intelligence suite is to streamline workflows, simplify and drive registrations, efficiently manage travel logistics, improve communications, and provide visibility into meeting spend for leveraging contract negotiations and increasing ROI. With over a decade of experience, 3,500 users and over 80 of the Fortune 500, we understand the value of your time and events. Learn more at http://www.signup4.com follow us @SignUp4.
About Meetings Mean Business
The Meetings Mean Business coalition was created in 2009 to showcase the incredible value that business meetings, travel and events bring to the U.S. economy. Its members span all facets of the face-to-face meeting and events industry, which have come together behind a common goal: providing the resources, tools and information to show the real impact the industry has on businesses, economies and communities. For more information, visit http://www.MeetingsMeanBusiness.com and download our app on iTunes and Google Play.