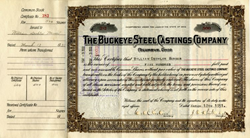 Old Stock and Bond Certificates are a great way to collect artifacts of Financial History
Washingtonb D.C. (PRWEB) April 16, 2015
Scripophily.com®, the Internet's largest buyer and seller of collectible stock and bond certificates, is offering a FREE original Buckeye Steel Castings Company (Bush Family) Stock Certificate dated in the 1930s with all Orders Plus a FREE Roberts Petroleum Torpedo Fracking Certificate 1860s with all Orders over $200.
Buckeye Steel Castings Company was founded by Samuel Prescott Bush, Great Grandfather of Jeb Bush and George W. Bush. The Buckeye Steel Castings Company was incorporated in 1894 as The Buckeye Malleable Iron & Coupler Company. They changed their name in 1908. The company manufactured steel car couplers for trains, truck bodies, bolsters, truck fenders, yokes, etc. Their annual output at the time this certificate was issued was approximately 100,000 tons. The company was still in business until late 2002.
Roberts Petroleum Torpedo was founded by Colonel E.A.L. Roberts. Prior to the invention of the oil well torpedo, oil wells produced only small quantities of oil for a short time. They had to be redrilled due to the build-up of paraffin and clay deposits. It was not until January 28, 1865 when Col. E.A.L. Roberts successfully discharged his eight pound torpedo, that oil production could be increased significantly. The torpedoes, which were lowered into the drilled wells, were filled with gunpowder, and ignited by a weight dropped along a suspension wire onto percussion caps in the torpedo. In later models, the gunpowder was replaced by nitroglycerin. Oil well production increased over 40 fold as a result of Roberts' invention. Modern torpedoes are still used today. In February, 1865 E.A.L. Roberts and his brother Walter formed the Roberts Petroleum Torpedo Company. Roberts was granted a patent that gave his company a virtual monopoly on all types of torpedo used in the oil industry. This patent was vigorously fought by both oil exploration companies and other would-be torpedo producers. In August 1866, the United States Supreme Court confirmed the Roberts' sole right to the patent.
"We are extremely happy to offer these authentic historic stock certificates to our customers" said Bob Kerstein, CEO Scripophily.com. "Both of these companies have contributed greatly over the years to the industrial output and financial history of the United States", Kerstein added.
Old stock certificates are collected and given as gifts because of their historical significance, beauty and artwork, autographs, notoriety, as well as many other factors. The supply of new certificates reaching the collector market has been substantially reduced due to changes in state laws and stock exchanges rules. Many companies are no longer required to issue physical stock and bond certificates, a process called "dematerialization".
Scripophily (scrip-ah-fil-ly) is the name of the hobby of collecting old stock and bond certificates. Values range from a few dollars to more than $500,000 for the most unique and rare. Tens of thousands of Scripophily buyers worldwide include casual collectors, corporate archives, museums and serious collectors.
Scripophily.com - The Gift of History is the internet's leading buyer and seller of collectible stock and bond certificates and has had items on loan for display in the Smithsonian's Museum of Financial History in New York. The company has been featured on CNBC, USA Today, Associated Press, Reuters, Nightline, Today Show, Baltimore Sun, and Washington Post and in many other media publications. The company also offers an old stock research service at OldCompany.com and offers high resolution scans for publications. Scripophily.com has over 17,500 selections including rare autographs and manuscripts.
Scripophily.com / Old Company Research Service is the successor company to all material published by the Marvyn Scudders Manuals, the Robert D. Fisher Manuals, R.M. Smythe Stock Research Service, and the Herzog & Co., Inc. obsolete research services. These services have been performed continuously for over 135 years since 1880. We are the leading provider of authentic stock certificates, autographs, and old company stock research services.
Scripophily.com and Old Company Research Services was founded by Internet Pioneer, Bob Kerstein (Bob.com). Bob is a CPA and CGMA, and has more than 39 years of senior management experience in the Cellular, Cable TV, Satellite, Internet, Professional Sports and Entertainment Industries. Bob is also the President of the Professional Scripophily Traders Association (PSTA).
For more information on Scripophily.com®, visit http://www.scripophily.com, http://www.oldcompany.com, http://www.scripophily.net, http://www.bob.com or call 1-703-787-3552.
# # #