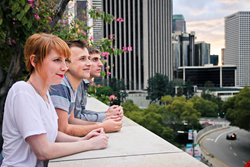 Los Angeles, CA (PRWEB) April 16, 2015
For those downtown Los Angeles dwellers who work or live near Bunker Hill, their hurried pace to grab lunch may become a leisurely stroll to experience an energetic midday music series. Sounds of LA returns this spring to Wells Fargo Center every Wednesday and extends into the summer for the first time at FIGat7th with a monthly encore Saturday session. The weekly lunchtime concerts at Wells Fargo Center offer an eclectic snapshot of the current music scene in Los Angeles, curated to introduce music lovers to new directions in jazz, soul, Latin, roots and pop music. The highly anticipated music series promises to excite business professionals, residents, and tourists alike seeking a much-needed lunchtime pick-me-up from Noon – 1:15 p.m.
Sounds of LA is presented by Arts Brookfield, the same presenters of the annual FIGat7th Downtown Festival that debuted in the summer of 2013, attracting thousands to downtown Los Angeles from throughout the city. Arts Brookfield is becoming a leader for downtown LA arts and entertainment offerings, with world-class cultural experiences and free signature outdoor music events at Brookfield's premier downtown properties. From concerts, theatre, and dance to film screenings and art exhibitions, Arts Brookfield brings public spaces to life through art.
Sounds of LA at Wells Fargo Center features Kamasi Washington on May 6, Sam Marsey on May 13, J Mosley on May 20, Quetzal Guerrero on May 27, Moonchild on June 3, and closes out with Iliana on June 10. To learn more about this music series and other Arts Brookfield events, visit http://artsbrookfield.com/event/soundsofla_wfc.
About Arts Brookfield
Arts Brookfield invigorates public spaces through the presentation of free cultural experiences in Brookfield's premier buildings around the world, located in the vibrant downtowns of New York, Los Angeles, Houston, Denver in the U.S., Toronto in Canada, and Sydney, Perth and Melbourne in Australia. By commissioning, producing, and presenting world-class works of art, Arts Brookfield supports creativity and innovation in the fields of music, dance, theater, film, and visual art. Visit http://www.ArtsBrookfield.com for a complete schedule of events.
# # #
Handles: @artsbrookfield, @KamasiW, @sammarsey, @jmosleymusic, @qviolin, @thismoonchild, @IlianaMusic
Hashtag: #soundsofla #kamasiwashington #sammarsey #jmosleymusic #quetzalguerrero #moonchild #ilianamusic