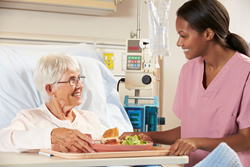 Health care is a complex, interconnected system of processes that have been built and layered with additional requirements over time. - Sue Peiffer - Chair-Elect ASQ Healthcare Division
Milwaukee, Wisconsin (PRWEB) April 16, 2015
Strengthening communication between caregivers and patients should be a top priority for reducing health care costs and improving patient experience, according to a new poll of U.S. health care quality improvement professionals conducted by ASQ, the world's largest network of quality resources and experts.
Globally, patients have increased their attention to how they're treated and recent studies find physicians spend on average less than 10 minutes with patients during an office visit.
According to the online poll of more than 250 ASQ members in the health care quality profession, more than 80 percent of respondents said improving communications between patients and healthcare staff is the number one factor in improving patient experience. Survey participants also ranked the following factors as key to improving patient experience as well as reducing costs and increasing profitability for health care organizations:
•Strong leaders who prioritize a patient-centered philosophy among staff and promote an organized system where patients know what to expect and when (67 percent)
•Viewing patient experience and service delivery as equal priority to financial and clinical performance measures (60 percent)
•Ease of access to treatment across the entire continuum of care (via accountable care organizations, etc.) (52 percent)
Hurdles to Achieving Patient Satisfaction
But many of the factors that improve patient experience have hurdles that make implementation prohibitive. Survey respondents said the following hurdles are "very difficult" to overcome by health care organizations as they work to improve patient experience:
•Payment and regulatory systems that are documentation-heavy, taking care team away from the patient (47 percent)
•Fragmented, uncoordinated patient care (e.g., multiple hand-offs, communication barriers, lack of nationally integrated health care information system) (46 percent)
•Governance and senior leadership that does not set the example for or support staff engagement (45 percent)
"Health care is a complex, interconnected system of processes that have been built and layered with additional requirements over time," said Susan Peiffer, chair-elect of ASQ's Healthcare Division and performance improvement specialist at Hospital Sisters Health System (HSHS) Western Wisconsin Division. "Add complicated patient issues to the mix and one can understand the ongoing quality and service challenges."
Setting a New Course for Improving Patient Experience
Experts surveyed ranked the following methods as having the greatest potential in helping health care organizations to improve patient experience:
•Employee engagement programs that demonstrate that staff input is valued (60 percent)
•Leadership development that focuses on seeing operations from the frontlines (60 percent)
•Lean management systems at all levels of the organization such as strategy deployment and cross-functional and daily management (52 percent)
Other possible quality improvement solutions to strengthen the patient experience offered by respondents include:
•A universal health information system that crosses every continuum and sorts and sends data and necessary information to all those who need it, including real-time to visual management boards (a simple display of information) for continuous improvement and project status updates
•Require all health care organizations to apply some performance excellence criteria such as the Baldrige excellence framework or the Shingo model
•Increase sharing of best practices among staff and with other health care organizations
•Implement a "voice of the patient" advisory council to consider patient interests
"Improving and standardizing processes combined with increasing leadership and staff development will help health care organizations create more high-value experiences for patients," Peiffer said.
ASQ quality improvement experts work in a diverse range of health care organizations from hospitals to public health departments. Quality improvement methods have proven increasingly successful in health care organizations.
About ASQ
ASQ is a global community of people dedicated to quality who share the ideas and tools that make our world work better. With millions of individual and organizational members of the community in 150 countries, ASQ has the reputation and reach to bring together the diverse quality champions who are transforming the world's corporations, organizations and communities to meet tomorrow's critical challenges. ASQ is headquartered in Milwaukee, Wis., with national service centers in China, India, Mexico and a regional service center in the United Arab Emirates. Learn more about ASQ's members, mission, technologies and training at asq.org.