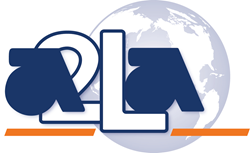 Frederick, MD (PRWEB) April 16, 2015
A2LA is proud to announce the accreditation of its first Air Emissions Testing Body (AETB) to ASTM D7036 per the exclusive Memorandum of Understanding signed between A2LA and the Stack Testing Accreditation Council (STAC). TRC Environmental, located in Lowell, MA, was accredited by A2LA on April 15, 2015. The main purpose of the program is a collaborative approach whereby STAC and A2LA together provide accreditation of the AETBs to ASTM D7036. A2LA's role is to review STAC's existing applications and accept new applications; and then perform the on-site assessments of AETB facilities including examinations of management, personnel, quality systems and source testing activities according to applicable statutes and rules according to ASTM D7036. A2LA is also offering AETBs the opportunity to become accredited to ISO/IEC 17025 and the NELAC Institute's Field Sampling and Measurement Organization (TNI FSMO) Volume 1 Standard. A2LA's assessor corps is comprised of industry experts from the air testing community that have technical expertise in the analyses supporting air emissions testing and are Qualified Source Testing Individuals and/or Qualified Source Testing Observers (QSTI/QSTO) per examinations given by the Source Evaluation Society.
A2LA is also a signatory to the International Laboratory Accreditation Cooperation (ILAC) Mutual Recognition Arrangement (MRA), resulting in the international recognition of laboratories that are granted A2LA accreditation to ISO/IEC 17025:2005 which enables their test results to be accepted globally. AETBs electing to seek ASTM D7036 accreditation, ISO/IEC 17025 accreditation and TNI FSMO accreditation may achieve these in a single A2LA assessment.
About A2LA:
A2LA is a non-profit, non-governmental third-party accreditation body, offering internationally-recognized accreditation services and training to testing and calibration laboratories, inspection bodies, proficiency testing providers, reference material producers and product certifiers. A2LA has been offering accreditation services to environmental testing laboratories for over thirty years.