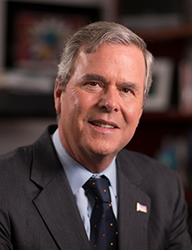 Lynchburg, Va (PRWEB) April 15, 2015
Liberty University has announced that former Florida Governor Jeb Bush will be the keynote speaker for its 42nd Commencement ceremony on Saturday, May 9.
Bush served as governor from 1999 to 2007 and was Florida's first two-term Republican to hold the position. During his tenure, he cut nearly $20 billion in taxes, vetoed more than $2.3 billion in earmarks, and reduced the state government workforce by more than 13,000. His limited government approach helped unleash one of the most robust and dynamic economies in the nation, creating 1.3 million net new jobs and improving the state's credit ratings, including achieving the first ever triple-A bond rating for Florida. Bush is credited for environmental, health care, and economic improvements in the state and for overhauling its education system.
"Liberty University is honored to welcome Governor Jeb Bush to campus for our 42nd Commencement exercises," said Liberty President Jerry Falwell. "Throughout his years of public service, Governor Bush has been a champion for excellence in education and so many other issues of vital importance to our university community."
Jeb Bush graduated from the University of Texas at Austin with a degree in Latin American studies and served as Florida's Secretary of Commerce before being elected governor. He has chaired several nonprofit organizations, including the Foundation for Excellence in Education, the Foundation for Florida's Future and the Barbara Bush Foundation for Family Literacy.
He will be the second member of his family to deliver Liberty's Commencement address; his father, 41st U.S. President George H. W. Bush, spoke to graduates in May 1990 and received the honorary Doctor of Humanities degree. His brother, George W. Bush, was our nation's 43rd president. Jeb Bush announced in December that he is actively exploring a 2016 presidential run.
Commencement begins at 10 a.m. on Saturday, May 9, at Williams Stadium.
To request press credentials for the event, please email your name, title, news outlet, and phone number to news(at)liberty(dot)edu.
About Liberty University
Liberty University, founded in 1971, is the largest private, nonprofit university in the nation, the largest university in Virginia, and the largest Christian university in the world. Located near the Blue Ridge Mountains on more than 7,000 acres in Lynchburg, Va., Liberty offers more than 450 unique programs of study from the associate to the doctoral level. More than 200 programs are offered online. Liberty's mission is to train Champions for Christ with the values, knowledge, and skills essential for impacting tomorrow's world.